Your CADA/West: September 2015
This edition features Let's Talk Dance in Edmonton, Calgary's Orographic Lift, a call for volunteers from Justine A. Chambers & a report from Jessica Wadsworth on the results of our annual survey.
Krista Posyniak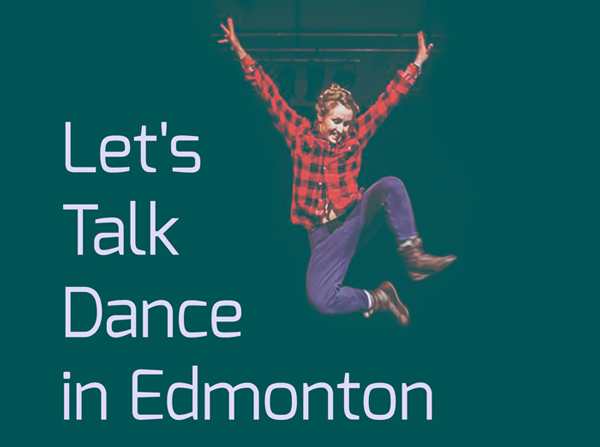 CADA/West, Mile Zero Dance and Good Women Dance Collective present a FREE event for professional/emerging dancers in Edmonton to congregrate, discuss, plan and socialize:
October 18, 11am–3pm
Mile Zero Dance, 10816 95 St NW
More Details & Sign-Up
CADA/West, Canadian Dance Assembly, Alberta Dance Alliance, Dancer Transition Resource Centre and Springboard Performance's Fluid Festival present a day of FREE professional development for professional/emerging dancers in Calgary:
October 21, 10am–7pm
Vertigo Theatre Lobby, 161, 115 9 Ave SE
More Details & Sign-Up
Justine A. Chambers; photo Yvonne Chew
Volunteer Call For Vancouver Dance Artists
Interested in the behind-the-scenes processes of one of Vancouver's leading contemporary choreographers? Justine A. Chambers, Artistic Associate of Dance in Vancouver, is looking for dance artists to assist with two projects during the biennial event. Gain invaluable experience in production and site-specific performance:
Jessica Wadsworth; design Deanna Peters
As Program Manager at CADA/West, I look forward to hearing back from all of you through our annual survey. This information is really useful to us and ultimately it helps us serve your career.
Just to be quick: the most notable information I pulled out of the survey this year is that almost half of you didn't know that we now support professional development initiatives. This means that if you get a group of people together who want to explore a topic, solve a problem, or learn something (like how to write a grant or do independent artist taxes), we can support you. Please contact us for more info.
We want to use our resources (the money!) at CADA/West in the best way possible. If you need something, we can likely provide it, or create the partnerships with organizations that can provide it, so that you get the benefit and our budget balances. Our mission is to pursue resources, opportunities and partnerships that empower working professional dance artists. So, please be aware that if you have something going on that can benefit the community, please tell us about it. We're happy to support an active, engaged membership. And that means you!
The Numbers
1/3 of respondents just work in dance
1/10 of respondents have taken a workshop --> all of those people found it useful
75% of you practice contemporary dance
1/2 of you are both an independent dance artist and part of a company
1/3 of you use our contract template --> did you know we have a new one?
2/3 have read the new Basic Dance Policy --> maybe the dance policy is useful even if the template isn't used?
your top 5 areas of interest in order from most important: fees and payments, rights/responsibilities tied with working conditions, publicity, documentary photographs and video footage --> touring was a close tie for 5th
2/3 of you rent rehearsal space for training
1/2 of you know about the Studio Subsidy Program --> contact us
1/3 of you say that floor space is not ideal
2/3 of you get involved in 1-3 CADA initiatives per year
2/3 of you are interested in a CADA/West mentorship program
CADA/West and its Members,
ensuring dance remains vital to our culture.
designed, written and built by Deanna Peters, CADA/West Communications Officer