Gerontology Matters
August 2014
The New Zealand Association of Gerontology
A message from the President

This is the last newsletter before the NZAG conference held in Dunedin from the 12th to 14th September. The conference is titled 'Age of Ageing' and follows the NZAG tradition of offering stimulating and thought-provoking research and perspectives on growing older. Renown speakers from Canada, Australia and New Zealand will offer insights into current ageing issues. In addition there will be concurrent sessions focusing on living well with multiple chronic conditions; the social aspects of aging; health promoting communities; cognitive and behavioural aspects of ageing, as well as sessions related to policy and well-being. The quality of presenters is high and this is reflected in the number of registrations. For those of you who have not registered there is still time. We wouldn't want you to miss out.

The Annual General Meeting will be held during the conference and we hope that as many members as possible will attend and contribute. The AGM signals the end of my first term as President and I am looking forward to highlighting the successes of the organisation, as well as presenting the strategic plan which will be the platform for the ongoing development of our organisation. I am looking forward to the conference and meeting those of you who are attending. See you in September!
Regards,
Stephen Neville
The International Association of Geriatrics and Gerontology (IAGG)
IAGG: Like to receive the IAGG Newsletter?

As an NZAG member, you are invited to register for the International Association of Gerontology & Geriatrics (IAGG) newsletter and stay up to date with international news.

You can register here for the International Association of Gerontology & Geriatrics newsletter or by sending your email contacts to IAGG contact@iagg.info
Information relevant to NZAG members
Member-Only Resources


Did you know: As a member of the New Zealand Association of Gerontology you have access to the member-only section of our website, giving you access to exclusive member-only news articles and blog posts. This section now newly includes webinar summaries and resources from the Australian Association of Gerontology.

You must be logged in to view member-only content on the Gerontology website.

If you are having problems logging in, or have forgotten your username or password please email national@gerontology.org.nz so we can sort it out for you.
NZ: Life begins at eighty
July 2014 - The New Zealand Herald.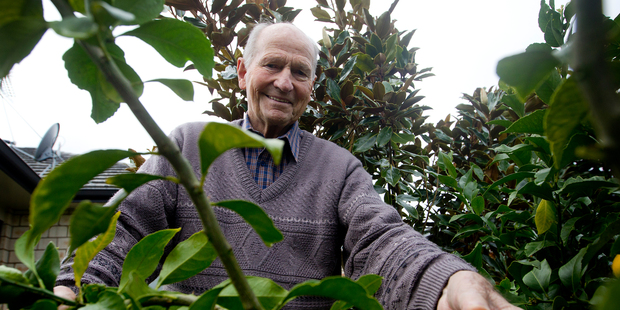 The following was written by Martin Johnston for The New Zealand Herald. Image by Christine Cornege: Gordon Allan, 89, says that healthy eating plays an important part in maintaining his well being.
Older people in New Zealand are happy with their health. About 60 per cent in an extensive survey of the very old told researchers their health was good, very good or excellent.
This is despite 40 per cent having been in hospital in the preceding year, and about 80 per cent having high blood pressure.
Nearly half were Maori, in the first attempt to understand the population health characteristics of this ethnic group in advanced age.
NZ: Harmonisation of the self - Narratives of older Chinese about ageing, health and wellbeing
You need to be a member to read this article.
Read it online
or
become a member
.
NZ: "World first" pedestrian system launched in Invercargill
August 2014 - Southland News

The following was written by the Invercargill City Council for Southland News.

The trial of a 'world first' crossing system for Invercargill that promises to help slower pedestrians while increasing safety and improving traffic flow starts on the 4th of August, 2014.

The new system provides a longer crossing time for users when the crossing button is pressed. The Queens Drive/St Andrew Street crossing is the first in Invercargill to have the system installed, with two more planned to be implemented at Gala Street/Queens Drive and Leven Street pedestrian crossing between Farmers and Warehouse at later dates.
NZ: New Zealand Superannuation – what is it for?
August 2014 - Judith Davey

The following is an opinion piece written by the Lower North Island Regional Hub Representative Judith Davey for Gerontology Matters.

NZ Super is a hardy perennial as an election issue. This year it seems that the age of eligibility is the main topic of debate, with differing views from the major parties – National aiming to retain the status quo and Labour suggesting raising the age above the current threshold.

Other important policy issues, such as whether NZS should be income tested or asset tested, whether the residence qualifications should be changed, and how the pension is indexed against wages, inflation or cost of living indices, do not seem to be under scrutiny. How we might respond to changes in current policy settings around NZS really hinge on what we think it is for in the first place and this is what I would like to question.

NZ: Rural communities to struggle - report
July 2014 - 3 News

The following was originally published by 3 News.

An ageing population where deaths outnumber births will be a challenge for rural communities who won't be able to afford the services they need, according to an analysis of New Zealand census data.

The challenges of adapting to an older population are highlighted in the Our Futures report, by an expert panel at the Royal Society of New Zealand.

Panel chairman, Professor Gary Hawke, says the review is a unique multi-disciplinary approach that looks at the big picture.

"We wanted to highlight what an evolving New Zealand society might look like, what is underlying these changes, and the challenges and opportunities these present."

NZ: Making active ageing a reality - Maximising participation and contribution by older people
You need to be a member to read this article.
Read it online
or
become a member
.
NZ: Art helps anxious dementia patients
August 2014 - Manuwatu Standard

The following was written by Lisa Knight for the Manuwatu Standard. Image by Grant Matthew for Fairfax NZ.

Margaret Anderson and Alzheimer's Manawatu manager Donna Hedley are intent on their work at the group's new Arts Explosion class.
A calm and fun place where they can just be themselves is how people with dementia describe the new Arts Explosion group.
In only its first month, the weekly programme, facilitated by
Alzheimer's Manawatu
, is an art class for people with dementia that aims to provide a non-pharmaceutical approach to alleviate anxiety and confusion.
Alzheimer's Manawatu art facilitator Alison Cleaver said the class was to help the group connect with their creativity and to socialise.
"Art allows them to use their memory and tap into their memories because some of them may have been quite good artists in the past," she said. "It's also quite calming, they can really relax into it so it's a nice space to be in."
NZ: Doctors concerned as elderly addicts suffer in silence
August 2014 - ONE News

The following was written by ONE News.

There is growing concern among healthcare professionals world-wide about the large numbers of elderly people facing alcohol addiction.

Often called "invisible addicts", Wellington Hospital's Dr Paul Quigley says insufficent screening for addiction means those affected often go unnoticed.

"They're not out downtown, knees up, screaming and dancing, they're just quietly drinking in their own home," he told ONE News.

Dr Quigley says those with alcohol addictions have often developed them earlier in life, the worst affected group being those aged between 55 and 70.
NZ: Access to Medicine by vulnerable groups
June 2014 - Age Concern NZ

The following is a press release from the University of Auckland.

A new independent study shows access to medicines by vulnerable groups in the community and increasing costs remain a challenge. One of a range of barriers identified in the study is the increase of prescription fees from $3 to $5, an issue raised often by New Zealand Council of Christian Social Services (NZCCSS) members.

The study, led by Dr Zaheer-Ud-Din Babar from the University of Auckland's School of Pharmacy, also identified issues with access to prescribers, budgetary constraints, cultural and health literacy, patient medicine affordability and the evidence required for gaining subsidy for medicines.
Switzerland: Have you got the body of someone 10 years younger?
June 2014 - The New Zealand Herald.

The following was originally published by The New Zealand Herald, detailing a study by the University of Zurich.

A healthy lifestyle at 75 gives a person the same chance of living for a further 10 years as someone a decade younger who smokes and drinks, a study has found.

For the first time, researchers have calculated a pensioner's chances of surviving for another decade, based on habits such as smoking, drinking, exercise and fruit consumption.

The study of more than 16,000 people found that men aged 75 who smoked, regularly drank alcohol, led inactive lifestyles and ate little fruit had just a 35 per cent chance of being alive a decade later.

Others of the same age who did not smoke, did exercise, ate fruit and had moderate or no alcohol consumption had a 67 per cent chance of living a decade - the same figure for men 10 years younger with unhealthy lifestyles.
Australia: Norma's project - A research study into the sexual assault of older women in Australia
June 2014 - La Trobe University
The following is from La Trobe University.
The authors of this study started with the story of one older woman, Norma. She was able to describe the crimes and identify her attacker. She was supported by family and police, and was able to take initial steps towards getting justice. Her attacker was not convicted. Despite this disappointing outcome her story remains important, as do the additional heartrending accounts of other women subjected to similar abuse.
Consequently the Norma's Project research team sought funding from the
Australian Department of Social Services
to address the gaps and increase our understandings of the settings, social contexts and vulnerabilities associated with the sexual assault of older women. The project aims to increase awareness of this important issue both within the community and amongst service providers, and to strengthen the community's ability to 5 prevent, respond to and speak out about the sexual assault of older women.
UK: Dementia more feared than cancer for over 50s

You need to be a member to read this article.
Read it online or become a member.
UK: One chance to get it right
June 2014 - Leadership of Alliance for the Care of Dying People (LACDP)

The following was written by the LACDP.

This document sets out the approach to caring for dying people that health and care organisations and staff caring for dying people in England should adopt in future. The approach should be applied irrespective of the place in which someone is dying: hospital, hospice, own or other home and during transfers between different settings.

The approach has been developed by the LACDP, a coalition of 21 national organisations concerned to ensure high quality, consistent care for people in the last few days and hours of life.
UK: Husband, partner, dad, son, carer?
You need to be a member to read this article.
Read it online
or
become a member
.
UK: Community Matters - Making our communities ready for ageing, a call to action
Age UK and International Longevity Centre



The following is from Grey Matter (Ministry of Health).

Over the past six months, International Longevity Centre UK and Age UK have worked together with academics and opinion formers to take a futures perspective on understanding the evidence about how communities need to adapt to an ageing society. Our aim was to promote the need for policy makers, journalists and opinion formers to better understand the evidence and to focus on solutions to ensure communities are ready for ageing.
UK: Study reveals how gardens could help dementia care
July 2014 - The University of Exeter
The following was originally published by The University of Exeter. Image by Simon.
A new study has revealed that gardens in care homes could provide promising therapeutic benefits for patients suffering from dementia.
The research is published in the
Journal of the American Medical Directors Association
and by critically reviewing the findings from 17 different pieces of research, has found that outdoor spaces can offer environments that promote relaxation, encourage activity and reduce residents' agitation.
The study's lead researcher, Rebecca Whear, said "There is an increasing interest in improving dementia symptoms without the use of drugs. We think that gardens could be benefitting dementia sufferers by providing them with sensory stimulation and an environment that triggers memories. They not only present an opportunity to relax in a calming setting, but also to remember skills and habits that have brought enjoyment in the past."
UK: Focus on the health and care of older people
July 2014 - Health & Social Care Information Centre (HSCIC)
The following is from the HSCIC.
The Health and Care of Older People report, linked below, aims to provide a wider picture of older people's health and lifestyle and pulls together data on hospital activity, mental health, social care, census data and life expectancy.

The report also explores use of health and social care services among older people and gives insight into the impact an ageing population has on these services and how this compares to previous generations.
UK: Improving later life. Services for older people - what works
2014 - Age UK.
The following is from Age UK.
Some major themes have emerged from this report that are necessary for effective services for older people. These key messages are not necessarily new but the lessons learned from research have not been consistently followed through into service design and delivery so they therefore bear repeating.

Key messages from the report include:
Service design and delivery should be based on what older people say they want and need.
Carers play a vital role to the success and sustainability of interventions.
There should be thorough and regular assessments of the needs of both older service users and their carers.
Service design should incorporate from the start a robust evaluation system and a broad and long-term view of likely costs, cost savings and sustainability.
Benefits for older people and carers are likely to go beyond the narrow focus of a particular service. Service providers should value – and make use of – opportunities for additional benefits.
USA: Small changes, and hopes, for preventing dementia
July 2014 - Paula Span
The following article was originally published by The New York Times.

What we really want, if we're honest, is a pill or a shot that would allow us to stop worrying about ever sinking into dementia.

Instead, what we're hearing about preventing dementia is, in many ways, the same stuff we hear about preventing other kinds of illnesses. Healthy lifestyles. Behavioral modification. Stress reduction.

"A number of people have been interested in modifiable lifestyle factors for years," said Richard Lipton, a neurologist at the college and director of the Einstein Aging Study, which has tracked cognition in elderly Bronx residents since the 1980s. But interest has increased lately, he said: "It's at least in part a reflection of disappointing drug trials." Medications have failed, over and over, to prevent or cure or substantially slow the ravages of dementing diseases.

What else might help? Dr. Lipton and his colleagues, who monitor about 600 people aged 70 to 105, have been exploring the impact of stress.
USA: Alive Inside 'powerful and moving'
August 2014 - Stuff.co.nz

The following was written by Rosemary Petherick.

Social worker Dan Cohen's campaign to provide iPods to dementia sufferers is the inspirational theme of the documentary 'Alive Inside'.

Cohen loads the devices with music that reflects each individual's life story, and the awakening in part of the brain that results is a wonderful story to watch. It brings hope that the patients, by responding to their past through the music, can recover some of their lost dignity and personality.
USA: Osteosarcopenic obesity - the role of bone, muscle and fat on health
2014 - Florida State University.
The following article was written by The National Center for Biotechnology Information for Florida State University.

Osteopenia/osteoporosis, sarcopenia, and obesity are commonly observed in the process of aging, and recent evidence suggests a potential interconnection of these syndromes with common pathophysiology.

The term osteosarcopenic obesity has been coined to describe the concurrent appearance of obesity in individuals with low bone and muscle mass. Although our understanding of osteosarcopenic obesity's etiology, prevalence, and consequences is extremely limited, it is reasonable to infer its negative impact in a population that is aging in an obesogenic environment.
Canada: Physical activity and Alzheimer's disease toolkit
July 2014 - Ontario Brain Institute.

The following is from the Ontario Brain Institute.

Based on the 2013 report The Role of Physical Activity in the Prevention and Management of Alzheimer's Disease—Implications for Ontario, an expert panel of researchers and not-for-profit leaders were brought together by the Ontario Brain Institute to develop consensus statements regarding the role of physical activity in the prevention and management of Alzheimer's disease in older adults. With their input, the Physical Activity Toolkit for Alzheimer's disease was created, which includes both an information pamphlet and a planning calendar.

The information pamphlet linked below highlights the evidence-based benefits of physical activity for older adults, along with suggestions for how to include physical activity into daily life and safety tips for being active. The planning calendar, on the other hand, is a tool that allows individuals to write down their goals and motivations for engaging in physical activity, fill out a weekly calendar for planned activities, and gives advice on what individuals can do if their physical activity plans change.
International: Quality care outcomes following transitional care interventions for older people from hospital to home - A systematic review
August 2014 - Health Improvement and Innovation Resource Centre (HIIRC)

The following is from the HIIRC.

This systematic review was conducted to identify and synthesise research, using randomised control trial designs, on the quality of transitional care interventions compared with standard hospital discharge for older people with chronic illnesses, and to make recommendations for research and practice.

All 12 studies in the report included outcome measures of re-hospitalization and length of stay indicating a quality focus on effectiveness, efficiency, and safety/risk. Patient satisfaction was assessed in six of the 12 studies and was mostly found to be high. Other outcomes reflecting person and family centred care were limited including those pertaining to the patient and carer experience, carer burden and support, and emotional support for older people and their carers.
Conferences - New Zealand
New Zealand Association of Gerontology Conference


12-14 September 2014 - Dunedin, NZ

The 2014 Conference The Age of Ageing has an exciting programme planned including keynote presentations from Dr Judith Davey, Prof Philippa Howden-Chapman, Dr Norah Keating, Prof Ngaire Kerse and Dr Nigel Millar. There will be an interactive panel session on End of Life Care on the last day which will include Dr Richard Egan, Prof Grant Gillett, Dr Anna Holmes and Dr Hywell Lloyd.

There have been more than 50 concurrent presentations accepted and these will feature on the conference website programme page as presenters register.

Don't miss out, register today!
New Zealand Population Health Congress

06-08 October 2014 - Auckland, NZ

The New Zealand College of Public Health Medicine, the Public Health Association and the Health Promotion Forum warmly welcome your registration for the inaugural New Zealand Population Health Congress being held 6-8 October 2014 at the Aotea Centre, Auckland.

The Congress will be a major event in New Zealand's population health calendar this year. It is a chance for you to learn, discuss and debate advances in population health thinking and practice in areas such as child health, housing, nutrition, indigenous health and climate change.

The overarching Congress theme is 'Connecting Communities, Science and Policy' and the programme provides multiple opportunities to achieve this goal.
"Tailoring Options for the Fit and Frail" - The annual Retreat of the NZ division of the Australian New Zealand Society of Geriatric Medicine
06-08 November 2014 - Hamilton, NZ

Where: Hamilton Gardens, Hamilton, Waikaton, New Zealand

Themes: Onco-geriatrics, service models and medical and nursing topics.

Main speakers: Dr Robert Prowse and Professor Sandie McCarthy

Programme: Currently being developed, but the usual pattern will be followed, i.e. Thursday afternoon, Friday morning and Saturday morning. Friday afternoon and evening is for social activities.

Dementia: the future is now
14-15 November 2014 - Rotorua, NZ
We have come a long way in the 30 years since the first Alzheimer's group was formed in New Zealand and the dementia community started to focus on helping people affected by dementia.

We are now at a watershed moment with exciting developments in research, diagnosis, prevention, support services and treatment options, both here and internationally.

The biennial Alzheimer's New Zealand conference "Dementia: the future is now" showcases these exciting developments and is a must attend for members of Alzheimer's NZ, people affected by dementia, health professionals, community, home based and residential providers, primary health care professionals, educators, researchers and policy makers.

Global Disability, Ageing & Healthcare Conferences Online Guide