Gerontology Matters
October 2014
The New Zealand Association of Gerontology
A message from the President

The impetus behind this month's editorial originated from our recent very successful conference. I have been pondering the ethics of disseminating research findings. It is my belief that all researchers have an ethical responsibility to funders and participants to disseminate study findings. Many participants in research agree to be part of a study on the assumption that the findings will be of use and publication at conferences and in journals are examples of vehicles for making findings 'useful'. Frequently a conference such as our recent conference is a step in the process toward publication.

Many researchers who work in academic institutions are required by their employer to publish as part of their job, which has led to a 'publish or perish' culture. Consequently, there is significant pressure to get as many publications as possible from each completed research project. A recent editorial in the Journal of Clinical Nursing warns researchers of the potential for engaging in 'salami science' and terms this phenomenon a publishing transgression (Jackson, Walter, Daly & Cleary, 2013). Publication transgression is when a number of articles are published from a research project where there is repetition of findings evident across different journals.

There is no doubt that there are instances where multiple publications from research are appropriate. Therefore, it is important to be clear about what is legitimate publication and what is the duplicate publication of research findings. An example of legitimate publication in more than one journal is where due to word restrictions associated with journal it is not possible to present all of the findings. The editorial provides a good example of where in some mixed method studies so much valuable data is generated that it is not possible to do justice to the findings in one paper.

If you have research that you are thinking of publishing more than one article from I suggest you read the editorial. I have provided the reference below. I know I have data that I want to publish more than one article from. The editorial has certainly given me food for thought and I am now looking closely at the articles to ensure there are distinct differences between manuscripts and that all pieces of work make a unique contribution to the field of gerontology.

Reference:
Jackson, D., Walter, G., Daly, J., & Cleary, M. (2013). Editorial: Multiple outputs from single studies: Acceptable division of findings vs. 'salami' slicing. Journal of Clinical Nursing, 23, 1-2. doi: 10.1111/jocn.12439

Regards,
Stephen Neville
The International Association of Geriatrics and Gerontology (IAGG)
IAGG: Like to receive the IAGG Newsletter?

As an NZAG member, you are invited to register for the International Association of Gerontology & Geriatrics (IAGG) newsletter and stay up to date with international news.

You can register here for the International Association of Gerontology & Geriatrics newsletter or by sending your email contacts to IAGG contact@iagg.info
The Australian Journal of Ageing content updates

The Australasian Journal of Ageing (AJA) is a comprehensive publication which provides a balance of academic papers, industry perspectives and practice reports. An invaluable source of current information and research, it covers a range of topics including social gerontology, home and community care services, geriatric medicine, health services research and the biology of ageing

NZAG invites members to sign up for free Australasian Journal of Ageing content updates.

In order to receive these updates you must first sign up on Wiley Online Library. After signing up visit the Journal's homepage and click "Get New Content Alerts" on the left side-bar.

Instructions on how to sign up for Wiley Online Library >
Instructions on how to sign up for content alerts >
Information relevant to NZAG members
NZ: Improving the lives of people with dementia
September 2014 - Ministry of Health

The following was written by the Ministry of Health.

Good health is essential for the social and economic wellbeing of New Zealanders. As the population of older people grows, so too will the population of people with dementia. An ageing population means that maximising the health, independence and wellbeing of people with dementia is a key part of ensuring the good health of New Zealanders.

There is currently no cure for dementia so we need to focus on improving the quality of life for people with dementia and their carers, families and whānau.

This publication outlines nine key areas the Ministry of Health will support over the next three years to maximize the health, independence and wellbeing of people with dementia.

NZ: Hip Op-eration crew win Age Concern award
October 2014 - 3 News

The following was written by Radio New Zealand News.

The Kiwi seniors taking the world by storm with their hip hop moves have won an age dignity award.

Waiheke Island's Hip Op-eration crew, whose members range from 65 to 95 years of age, were named winners of the Age Concern Dignity Champion award.

The award recognises people who show a commitment to breaking down ageism and stereotypes and encourage respect.

NZ: The Employment of Older New Zealand Women - report
August 2014 - Dr Paul Callister

The following was written by Dr Paul Callister.

Since the 1950s, in New Zealand approximately 60 percent of all those aged 15 and older have been employed. Yet, within this period the long term trend has been increasing employment rates for women. This has been matched by decreasing employment rates for men. For women, over the long term, there have been major gains in employment in the prime childrearing age group, as well as in their 40s and 50s. For both women and men, there was a shift to earlier retirement from the mid 1950s through to the mid 1980s. Since then there has been a significant reversal of this trend.

The National Advisory Council on the Employment of Women (NACEW) recently commissioned a research paper on this topic entitled The Employment of Older New Zealand Women by Dr Paul Callister.

NZ: Lack of GPs could threaten community health
September 2014 - The Dominion Post
The following was written by Olivia Wannan, and was originally published by The Dominion Post. Image by Lower Columbia College.


Low levels of interest in becoming a GP could threaten community health as the population ages, medical research suggests.

A study published in the New Zealand Medical Journal found fewer than one in three medical students showed strong interest in taking up general practice as a specialty.

Only 3 per cent of students were interested solely in family medicine as a career, with most drawn to several career choices, co-author Phillippa Poole said.

It is estimated half the medical workforce will need to work as GPs in future to cope with the increased healthcare needs of an ageing population.

NZ: Mental health of the elderly growing issue
October 2014 - Otago Daily Times

The following was written by John Gibb for Otago Daily Times.

People are living longer but more needs to be done to avoid future mental health problems being faced by ageing baby-boomers.

Dr Jane Casey made that point at a Royal Australian and New Zealand College of Psychiatrists conference at the Otago Museum, Dunedin, on the 15th of October.

In a talk at the conference, she noted people were living longer, but were experiencing more mental illnesses than 50 years ago. And old-age services were struggling to meet the needs in mental health care after 65.

NZ: Students to share their views on older people
September 2014 - Scoop Independent News

The following is a press release from the New Zealand Government.

Former Senior Citizens Minister Jo Goodhew has announced an essay competition for primary school students aimed at understanding youth attitudes towards older people.

"To promote positive ageing, it is important to understand the attitudes and perceptions younger people have towards their elders," says Mrs Goodhew.

"The essay topic: 1914 – 2014: The greatest greats and grands of the last 100 years, is all about inspirational or prominent older New Zealanders in the last 100 years.

"This is the first time such a competition is being run, and the essays will also be used to help inform the upcoming 2014 Positive Ageing Strategy Report."

The competition will run for six weeks from 1 October to coincide with the International Day of Older Persons. The winner will be notified in mid-November 2014. The first prize winner will receive a book voucher for themselves, as well as a book voucher which will be donated to their school library.

NZ: New Zealand 10th best country to grow old in
October 2014 - ONE News

The following was published by ONE News.

New research ranks New Zealand the 10th best country in the world to grow old in, placing us above both Australia and the UK.

The 2014 Global AgeWatch Index ranks 96 countries according to the social and economic wellbeing of older people. It represents over 90% of people aged 60-plus across the world.

The report, carried out by researchers at Help Age International and the University of Southampton, makes international comparison in four areas - income security, health status, 'personal capability', and 'enabling social environment'.

NZ: Memoirs of a Woman Doctor - Different Stars for Different Times, by Dr Margaret Guthrie
October 2014 - Amazon

This autobiographical account traces the story of Dr Margaret Guthrie (a life member of NZAG) following her return to NZ in 1963 as a widowed mother of three children. She describes her experiences as a medical officer in an AirForce Base and as NZ's first female medical superintendent of a major hospital in the 1970s. Since the 1980s Margaret has been at the forefront of gerontology in NZ, helping to plan the country's care for its older people, through government, voluntary and professional channels.

This book is a fascinating read and leaves the reader in awe of Margaret's achievements and her humble nature. The book can be bought through Amazon.

NZ: Should general practitioners be conducting targeted screening for dementia in people aged 65 to 74?
September 2014 - Journal of Primary Health Care (JPHC)

This article is reserved for members-only.
Read it online or become a member to read it.
Australia: Think positive, you'll live longer - research
September 2014 - The New Zealand Herald
The following was written by Sarah Dunn for the Nelson Mail. Image by 123RF.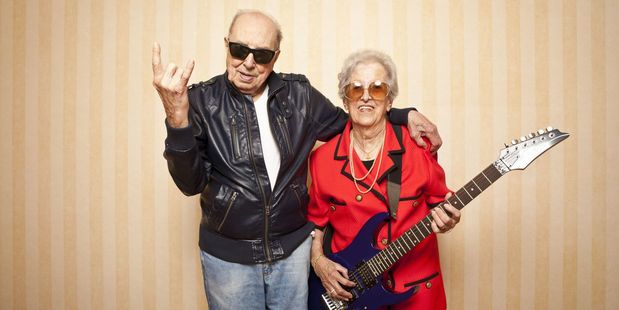 When American pop star Bobby McFerrin sang Don't Worry, Be Happy, he wasn't just offering the world a catchy tune. It seems he was also providing sound health advice.

A University of Queensland study has discovered a positive attitude can improve your immune system and may even help you live longer.

Researchers at the university's School of Psychology discovered older people who focused on positive information were more likely to be happier, and healthier too.

"Despite the fact that people often think of late life as a period of doom and gloom, older people are often more positive than younger people," lead researcher Elise Kalokerinos said.

Australia: Common Association of the Ageing Newsletter
September 2014 - CommonAge

CommonAge was recently formed to fill a gap within the 53 Commonwealth Countries to "Advance the interests of older peoples throughout the Commonwealth by building capability and capacity in health and aged care services."

Linked below is their first newsletter and a link to their website that we thought may be of interest to you.

Australia: Blueprint for an ageing Australia
September 2014 - Per Capita
The following was written by Per Capita.
Blueprint for an Ageing Australia is a document built around the idea that living longer is a good thing, that the rising average age of our population is a vindication of advances in science and health policy, and that the best way to approach it is to look for ways that older Australians can participate more effectively in our society and our economy to the best of their abilities.

The Blueprint is, ultimately, based on the reality that ageing isn't something that happens to other, older people, it happens to all of us and it is in all our interests to make it a more positive experience for everyone.

Australia: Dying well
September 2014 - Grattan Institute
The following was written by Hal Swerissen and Stephen Duckett.
Dying well, the
Grattan Institute
report, is about how, where and with whom we die. The baby boomers are growing old, and in the next 25 years the number of Australians who die each year will double. People want to die comfortably at home, supported by family and friends and effective services
But dying in Australia is more institutionalised than in the rest of the world. Community and medical attitudes plus a lack of funds for formal community care mean that about half of Australians die in hospital, and about a third in residential care. Often they have impersonal, lingering and lonely deaths; many feel disempowered. Seventy per cent of people want to die at home, yet only about 14 per cent do so. People are twice as likely to die at home in countries such as New Zealand, the United States, Ireland and France.
UK: Carers at breaking point
September 2014 - Carers UK
The following was written by Carers UK.
Caring for an older or disabled loved one can take a serious toll on carers' mental and physical health, their personal relationships and family finances.
This research sets out the findings from
Carers UK's State of Caring Survey 2014
, examining the experiences of over 5,200 carers – asking if they have ever reached breaking point, the causes of crisis and what support would have prevented it. Their experiences show that insufficient support from health and social care services is leaving carers isolated, burnt-out and unable to look after their own health.
UK: Dementia 2014 - Opportunity for change
September 2014 - Alzheimer's Society

This article is reserved for members-only.
Read it online or become a member to read it.
UK: World Alzheimer Report 2014 - Dementia and Risk Reduction
September 2014 - Alzheimer's Disease International

The following was written by Alzheimer's Disease International.

Dementia, including Alzheimer's disease, remains one of the biggest global public health challenges facing our generation. The number of people living with dementia worldwide today is estimated at 44 million, set to almost double by 2030 and more than triple by 2050. The global cost of dementia was estimated in 2010 at US $604 billion, and this is only set to rise.

The following report examines the latest existing evidence associated with dementia risk factors, ranging from smoking to socialising, and provides an analysis of interventions that have been trialled to create change around the world. It provides the basis upon which to campaign for change, and opens the door for more research in the area.

UK: Sunlight linked to preventing dementia risk
August 2014 - The New Zealand Herald
The following was written by The New Zealand Herald. Image by Karen Roe.


Older people who do not get enough vitamin D face a much higher risk of dementia or Alzheimer's disease, the largest study of its kind on the topic has found.

The findings were based on a study of 1,658 adults aged 65 and over, who were healthy and able to walk without assistance.

The participants were followed for six years. By that point, 171 participants had developed dementia and 102 had Alzheimer's disease.

UK: Getting ready for ageing - A manifesto for action
2014 - Ready for Ageing Alliance

The following is from the Ready for Ageing Alliance.

The world's population is ageing rapidly. By 2021, there will be around 1 million people living with dementia in the UK and by 2051 this will have reached 1.7 million, more than double the number in 2012.

These changes will impact on our society and economy, for every kind of organisation and for each individual. The Ready for Ageing Alliance encourages us to start taking serious action now. The longer we leave it, the more difficult the process of adaptation will be and the greater the numbers of ordinary people who will needlessly suffer.

This report sets out the Ready for Ageing Alliance's recommendations for action so that we can be ready for ageing, organised around a series of key themes. Unlike most such reports it also includes a section on what you, the reader, can do to ensure you are ready for ageing too, since demographic change isn't about 'them', it is about 'us'.

USA: Could a caregiver corps solve the caregiving shortage?
September 2014 - Huffington Post

A recent report from AARP found that we are on the verge of facing a major caregiver shortage in the not-so-distant future. According to their report, in 2010, there were "more than 7 potential caregivers for every person in the high-risk years of 80-plus" and by 2030, the projected ratio will fall to 4 people for every person 80-plus. And by 2050, "it is expected to further fall to less than 3 to 1."

Aging in place has become an important part of aging in America. Whether due to the struggling economy, comfort or deeper personal reasons, people simply do not want to spend their later years in nursing homes or assisted living facilities; they prefer to grow old in their own homes, usually with the help of their grown children. For the last decade or so, this has been made possible thanks to their children and amenities offered by both private companies and local governments to assist the elderly with aging in place.

Baby Boomers, however, may not be as lucky. Boomer women had fewer children than their parents and some opted out of having children at all. Combine that with higher divorce rates — by 2030, 36 percent of older men will have been alone for a decade or longer — and we've got a Caregiver shortage crisis on our hands.

International: Interventions to improve the appropriate use of polypharmacy for older people
October 2014 - Cochrane Effective Practice and Organisation of Care Group

The following is from the Ready for Ageing Alliance.

This updated review sought to determine which interventions, alone or in combination, are effective in improving the appropriate use of polypharmacy and reducing medication-related problems in older people (65 years of age and older).

Two new studies were added to this review to bring the total number of included studies to 12. One intervention consisted of computerised decision support; 11 complex, multi-faceted pharmaceutical approaches to interventions were provided in a variety of settings. Interventions were delivered by healthcare professionals, such as prescribers and pharmacists

Member-Only Resources


Did you know: As a member of the New Zealand Association of Gerontology you have access to the member-only section of our website, giving you access to exclusive member-only news articles and blog posts. This section now newly includes webinar summaries and resources from the Australian Association of Gerontology.

You must be logged in to view member-only content on the Gerontology website.

If you are having problems logging in, or have forgotten your username or password please email national@gerontology.org.nz so we can sort it out for you.
Conferences - New Zealand
Dementia: the future is now
14-15 November 2014 - Rotorua, NZ
We have come a long way in the 30 years since the first Alzheimer's group was formed in New Zealand and the dementia community started to focus on helping people affected by dementia.

We are now at a watershed moment with exciting developments in research, diagnosis, prevention, support services and treatment options, both here and internationally.

The biennial Alzheimer's New Zealand conference "Dementia: the future is now" showcases these exciting developments and is a must attend for members of Alzheimer's NZ, people affected by dementia, health professionals, community, home based and residential providers, primary health care professionals, educators, researchers and policy makers.

Conferences - Overseas

3rd International Conference on Healthy Ageing in the Changing World 2014
17-19 November 2014 - Bangalore, India

Rewinding the Aging Clock

29-30 November 2014 - Hong Kong, China

The 2015 Ageing Summit
10-12 February 2015 - London, UK
Global Disability, Ageing & Healthcare Conferences Online Guide
2014 NZAG Conference Presentations

The 2014 NZAG conference was a great success. Thanks to all the attendees and presenters for sharing their information. Members of NZAG are now able to access the conference presentations, where the author gave permission, on the members-only section of our website.

View the conference presentations >