Hey Spiritual SuperSTAR;
If you believe that it is possible to experience quantum growth through conscious relationship, and are curious to learn how to attract it, keep it, and cultivate it, you'll want to make sure to be on this life-changing call!

This call will be recorded and sent to those who can't be with us live, so don't worry if the date doesn't work. Join us when it works for you!

***All proceeds from this event will go toward supporting low income, at-risk women to participate in The Inspired Heart Foundation's Leadership Presence & Empowerment Coaching Program.

:: CLICK HERE :: for details and to register.

Do you desire love that nurtures you and elevates you to your highest potential?

Do you believe that conscious relationship can bring you to higher states of consciousness, success and well-being?

Are you ready to hear what no one else is saying about Twin Flame Love?

If so, we created this deep dive Master Class just for you.

:: CLAIM YOUR SPOT NOW ::

You'll learn the three essential things you need to know (but few people seem to recognize) to call in (and keep) love that uplifts and brings out the best in you and your partner.

We believe that conscious relationship is sacred and when these three keys are utilized, you can navigate every conflict with grace. In fact, conflict turns into greater intimacy and pleasure when you know these three secrets.

And, we don't want them to be secrets anymore!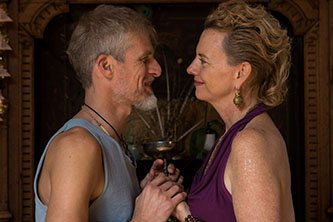 FACILITATORS
Amanda is an international speaker, shamanic healer and medicine woman, educated with a Master's in Counseling Psychology & Expressive Arts Therapy from California Institute of Integral Studies. She's worked with California Pacific Medical Center, Institute for Health & Healing, and Marin General Hospital using guided imagery and her unique process, "Subconscious Success Repatterning" to help groups, clients and medical patients to heal mental, emotional, spiritual and physical challenges.
Gerwin is educated in the field of Psychology and trained as an Imago Professional Facilitator. He is a visionary and artist and has won acknowledgement for his innovations. He is most passionate about a sustainable future for human society and the creation of a model of consciousness, which he has studied for decades. According to him, not only on a collective, but also personal level, Love has all the answers. Navigating this Journey with Love, he has gained a comprehensive understanding around the complexity and interconnectivity of life. One of his most powerful tools is his music, creating magical energetic fields that raise cellular vibrations and support healing and deep transformational insight.
:: REGISTER NOW ::



***The Inspired Heart Foundation is an innovative 501(c)(3) nonprofit organization, providing women who lack the monetary resources with positive mentoring, group workshops, and inspired one-on-one coaching. We help under-served women develop a positive mindset and life focus, along with the support to become self-confident, inspired and courageous leaders in their families workplace, and communities. (https://inspiredheartfoundation.org)

____________________________________________________
LIVING WISDOM: Sacred Community birthing the new paradigm of Sacred Leadership - Honoring the Feminine, Indigenous Wisdom, and Mother Nature through Living a Purpose-Driven Life of Prosperity. Are you called to step up as a leader? Click here to explore how to Live Your Purpose & Prosper and to learn about our 2019 Sacred Leadership Certification Program that is now "Pay what you can".
____________________________________________________
Don't lose the connection!
Unsubscribing from this email will unsubscribe you from ALL of our community invitations, resources and goodies ... forever ... we only send 3-4 emails per month, giving you free gifts and resources as well as invitations to live local events and global summits.