November 02, 2015
These paleo chocolate chip cookies are thick, chewy and have the perfect texture along with a subtle nuttiness thanks to almond flour and almond butter. Thanks to Bob's Red Mill for making today's post possible!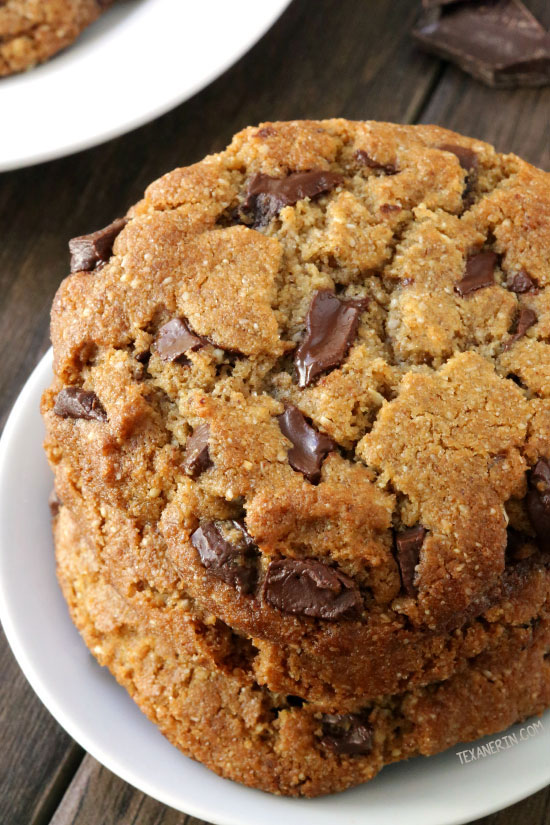 My paleo and grain-free recipes have been seriously lacking as of late. I ran out of my favorite Bob's Red Mill almond flour months ago and I've been so frustrated with the brands of almond flour I've been buying here in Germany since they are so inconsistent. Because I didn't want to deal with the hassle of ordering flour from the US, I thought I'd wait it out until December, when I'll be in the US and can pick up more Bob's Red Mill.
But then I got a hankering for chocolate chip cookies. And I really wanted to make them paleo.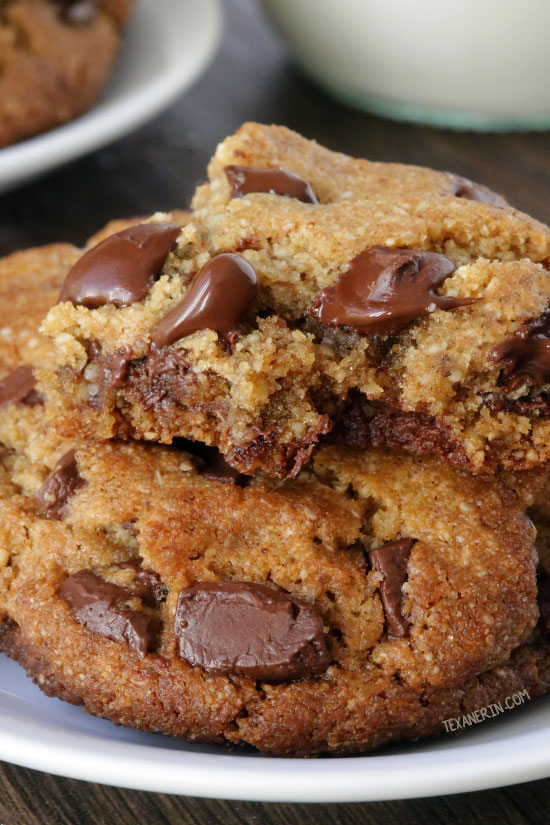 So I went to work and while every batch tasted amazing, the appearance and thickness was different every single time. The only variable? The almond flour. The almond flour I'd been buying varies from brand to brand and even within the same brand. They come in tiny 1-cup bags here so I go through a load of them when recipe testing. I'd open up one bag and find some finely ground almond flour, then I'd open up another bag from the same company, and it was overall coarser with bits of sliced almonds. Sliced almonds! In my almond flour. That was the final straw.
So to save my sanity, I ordered myself some Bob's Red Mill almond flour. By the way, for anyone else living abroad, Vitacost has great international shipping rates! I just recently discovered this and it's been life-changing. ;) If you have Bob's Red Mill in a retail store in your area, you can use one of these $1 coupons.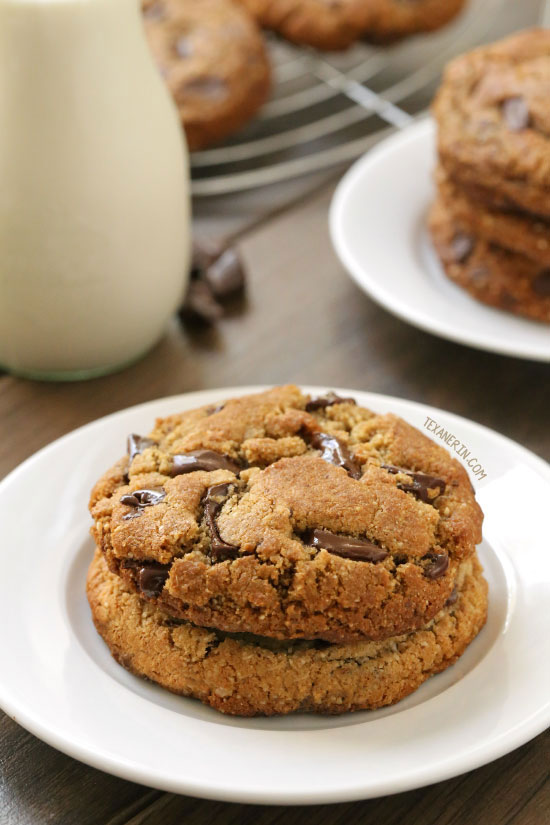 The below cookie is one of the ones I made with a random brand of almond flour. It spread almost totally flat and seemed a little greasy. It was delicious but I didn't want flat and oily. The ones with Bob's Red Mill? Thick, chewy and just as delicious and magical as all-purpose flour chocolate chip cookies. And every batch comes out the same. Hooray for consistency!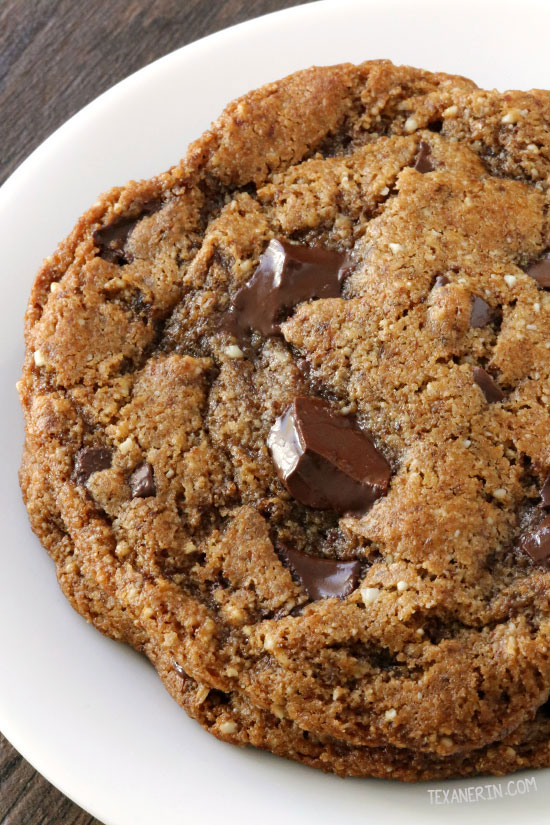 So the almond flour obviously plays a huge role in the final outcome of these cookies. Another thing that will affect the cookies is the temperature of the coconut oil. If you make these in the summer when room temperature coconut oil means melted coconut oil, you'll need to refrigerate the dough first.
You'll also need to chill the dough if you use coconut sugar rather than brown sugar. I made one version with brown sugar and one with coconut sugar at the same time and the brown sugar cookies were nice and thick while the coconut sugar version spread flat and was super thin. I refrigerated the remaining coconut sugar dough until firm and that resulted in nice and thick cookies, just like the brown sugar version! Just a little darker colored.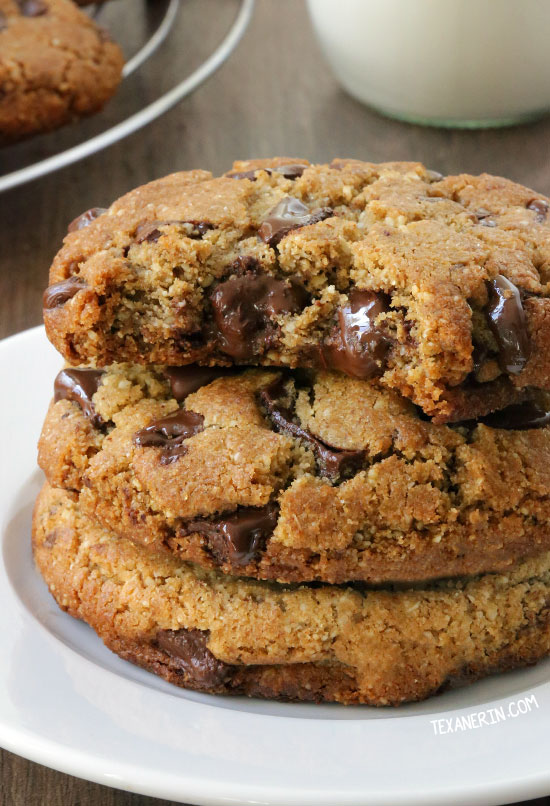 Thanks again to Bob's Red Mill for sponsoring this post! As always, all opinions expressed are my own. Be sure to check out some of their other gluten-free flours if you're into gluten-free and paleo baking. :)
Perfect Paleo Chocolate Chip Cookies (grain-free, gluten-free, dairy-free)

Prep Time: 15 min
Cook Time: 15 min
Ready in: 30 min
Yield:

8 cookies
Ingredients
1 cup (100 grams) blanched almond flour
1/4 cup (32 grams) coconut flour
1 teaspoon baking soda
1/4 teaspoon salt
6 tablespoons (84 grams) coconut oil or butter, room temperature
3/4 cup (150 grams) coconut sugar or brown sugar
6 tablespoons (98 grams) natural almond butter, room temperature
1 1/2 teaspoons vanilla extract
1 large egg, room temperature
1 1/4 cups (213 grams) semi-sweet chocolate chips, divided
Directions
In a medium mixing bowl, stir together the almond flour, coconut flour, baking soda and salt. Set aside.
In a large mixing bowl with an electric hand mixer or using a stand mixer, beat together the fat and sugar at medium speed until well combined, about 1 minute. If you use coconut oil, it may not come together easily. If that's the case, use your hands to combine it and then beat another 20 seconds.
Beat in the almond butter and vanilla extract on medium speed and mix until combined. Beat in the egg on low and mix until well incorporated. Then stir in 1 cup (170 grams) chocolate chips. If you used brown sugar, skip to the next step. If you used coconut sugar, place the bowl in the refrigerator for about 1 hour or until the dough is firm.
Preheat the oven to 350 °F (175 °C) and line a baking sheet with a piece of parchment paper.
Roll the dough into 8 (75-gram) balls and place the remaining 1/4 cup (43 grams) of chocolate chips on the top and on the sides of the dough balls. Place 3" apart on the prepared baking sheet. Press the cookies down lightly with the palm of your hand.
Bake for 11-14 minutes (if using coconut sugar) or 14-17 minutes (if using brown sugar) or until the surface of the center of the cookies no longer appears wet. They'll be very soft but will continue to cook as they sit on the cookie sheet.
Let cool completely on the baking sheet. Store in an airtight container for up to 3 days.
Notes
For paleo: use coconut sugar, coconut oil, and paleo chocolate.
For dairy-free: use coconut oil and dairy-free chocolate.