THIS VEGETARIAN APPETIZER WILL GET YOU RAVE REVIEWS... AND IT'S BURSTING WITH NUTRIENTS!

Delicious spinach dip recipe loaded with protein, vitamins, and much more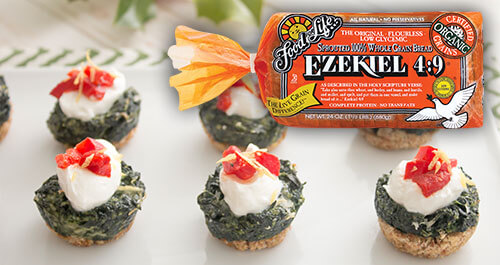 Everyone loves spinach dip. But this recipe takes it to a whole new level!

That's because these canapés contain the staff of life straight from the Holy Scripture: Ezekiel 4:9 Bread. This one-of-a-kind sprouted grain and legume bread created in the likeness of the Holy Bible verse is a complete protein source. In fact, it's rated 84.3% as efficient as the highest source of protein! Plus it's naturally flavorful and nutrient-rich.

Add to that health-supercharging spinach that delivers essential minerals, B vitamins and carotenoids. Then top that off with vitamin C-packed red peppers, probiotics from Greek yogurt, and antioxidants from extra virgin olive oil. If you're vegan, you can substitute with non-dairy yogurt and ricotta. Giving you a healthy and mouthwatering recipe you'll love to share at your next party or potluck.



THE TRUTH ABOUT GRAINS AND SEEDS

Our handy guide gives you the facts!

Click here to find out more...

WHY DO YOU LOVE FOOD FOR LIFE?

Tell us your favorite Food for Life product, and why!

We love to hear from you!