This being the 150th edition of this newsletter, I was planning to do something special to mark the milestone, or at least spruce up the design to match our website, but then I came down with a particularly severe case of streptococcal tonsillitis, so consider yourselves lucky you're getting anything at all this week.
No need to pray for me; the antibiotics are doing their thing and I should be fine in a few days.

- Derek Walsh, Editor



News
State School Discrimination
Ireland has nine State schools at primary level where the Minister for Education & Skills is patron. Last June Atheist Ireland wrote to the Dept of Education asking why as Patron they discriminate on religious grounds in access to Athy Model School.
We received a letter of acknowledgement, and were informed that the matter was being investigated. We wrote again recently asking had there been any developments and over four months later the Dept of Education inform us that they are still investigating why as a Patron body they are discriminating on religious grounds. Read more


Calendar
Upcoming Events

All events are free and open to everyone unless otherwise stated. Listing is not necessarily an endorsement. Listings sorted alphabetically by county, then chronologically.
Dublin
Saturday 15 November, 12:00 noon - 2:00 pm, GPO, O'Connell St., Dublin 1 (map)
Humanist Information Stand. Facebook event page

Galway
Sunday, 30 November, 1:00 pm, The Cottage Bar, 76 Salthill Road Lower, Galway (map)
Secular Sunday Brunch
. A family-friendly social event.
Meetup event page

Kilkenny
Friday 21 November, 8:00 pm, Aspect Hotel, Kilkenny (map)
Humanist Association of Ireland meeting.
Facebook event page
---

Observances
13 November
World Kindness Day
---

This Week in History
Anniversaries of momentous events in atheism, science, skepticism, secularism and human rights, plundered shamelessly from Wikipedia and other sources.

9 November
1989:
East Germany announced the opening of the inner German border and the Berlin Wall, marking the symbolic end of theCold War, the impending collapse of the Warsaw Pact, and the beginning of the end of Soviet communism.
---
Birthdays

9 November
1934: Carl Sagan (d. 1996): American astronomer, cosmologist, astrophysicist, astrobiologist, author, science populariser, and science communicator in astronomy and other natural sciences. Sagan always advocated scientific skeptical inquiry and the scientific method, pioneered exobiology and promoted the Search for Extra-Terrestrial Intelligence (SETI).


13 November
1969: Ayaan Hirsi Ali. Somali-born American (formerly Dutch) activist, writer and politician. She is known for her views critical of female genital mutilation and Islam, and supportive of women's rights and atheism. She collaborated on a short movie with Theo van Gogh, entitled Submission (2004). Critical of Islam, it provoked controversy, and death threats were made against each of the two. Van Gogh was assassinated later that year by a Dutch Muslim.

14 November

1797: Charles Lyell, (d. 1875). Scottish lawyer and the foremost geologist of his day. One of the first to believe that the world is older than 300 million years, on the basis of its geological anomalies. Lyell was a close and influential friend of Charles Darwin.

15 November

1738: William Herschel (d. 1822). German-born English astronomer. Discoverer of the planet Uranus.

1902: Gora (d. 1975): Indian atheist leader, co-founder with his wife of the Atheist Centre in Andhra Pradesh.

Opinion
Material collected from the Irish atheist blogosphere and beyond; used without permission, compensation, liability, guarantee or implied endorsement.

Armaggedon, The Young Earth, And The Cancer Cure Suppressing Freemasons
by Geoff Lillis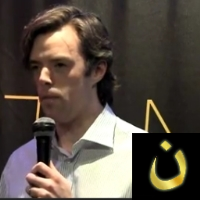 Most evenings I pass a brace of Jehovah's Witnesses outside a GPO. For comic juxtaposition they place themselves to the left of a statue of Cú Chulainn lashed to a tree stump, ready to attack all comers until his death. The Jehovah's Witnesses give a warmer welcome and are sometimes willing to discuss their organisation's worryingly regular habit of announcing the imminent end of this mortal realm.
Proceeding a figurative hop, skip, and jump will often land me next to Dessie. He's a likeable chap who considers the earth to be at most 11,000 years old. On past occasions I've met Hare Krishnas who sought to dissuade me of my heliocentric beliefs. Let us say that it is a vibrant marketplace of ideas where any viewpoint can be expressed without falling prisoner to the confines of reality.
It was there (where else?) that Immuno Biotech chose to plant a stall emblazoned "Cancer Cure". The subtext is "The Cure They Don't Want You To Have!" Read more

The Catholic Church is making money by encouraging vulnerable people to travel to Lourdes
by Michael Nugent
In 2007 Pope Benedict gave Catholics a special time-limited promotional offer: if they visited Lourdes during 2008, they would get a free indulgence that would get them early release from Purgatory, and get them faster to heaven, after they died.
This is not an extreme example of Catholicism. Encouraging seriously sick people to travel great distances, in the hope of a miracle cure, is very much part of mainstream Catholic practice.
Just a few months before this special offer, the Vatican had started its own official airline, with the launch slogan 'I'm Searching for Your Face, Lord', and Vatican logos on the headrests and air hostess's uniforms. The inaugural flight just happened to travel to Lourdes. Read more

Media Watch
News and views from Ireland and around the world

Ireland
World