Governing through Prizes and Challenges
Jan 29, 2015 04:55 pm
As governments and other institutions increasingly come to recognize Joy's Law – "No matter who you are, most of the smartest people work for someone else" – many efforts to solve big problems are being posed to the public rather than being exclusively addressed within institutional borders. Two of the central techniques for shifting the locus of innovation from within institutions to the general public are:
Prize-Induced Contests – using monetary rewards to incentivize individuals and other entities to develop solutions to public problems; and
Grand Challenges – posing large, audacious goals to the public to spur collaborative, non-governmental efforts to solve them.
The GovLab's Chief of Research Stefaan Verhulst and Associate Director of Research Andrew Young shared their observations on  what is known regarding these two innovative techniques on Medium, with an eye toward operationalizing a research agenda to determine their effectiveness and creating the environment needed for governmental and other institutional decision-makers to act on the innovation opportunity they present.
Click here to read "Governing through Prizes and Challenges" and share your thoughts.
Full Post: Governing through Prizes and Challenges
---
The new scientific revolution: Reproducibility at last
Jan 29, 2015 10:20 am
Joel Achenbach in the Washington Post:"…Reproducibility is a core scientific principle. A result that can't be reproduced is not necessarily erroneous: Perhaps there were simply variables in the experiment that no one detected or accounted for. Still, science sets high standards for itself, and if experimental results can't be reproduced, it's hard to know what to make of them.
"The whole point of science, the way we know something, is not that I trust Isaac Newton because I think he was a great guy. The whole point is that I can do it myself," said Brian Nosek, the founder of a start-up in Charlottesville, Va., called the Center for Open Science. "Show me the data, show me the process, show me the method, and then if I want to, I can reproduce it."
The reproducibility issue is closely associated with a Greek researcher, John Ioannidis, who published a paper in 2005 with the startling title "Why Most Published Research Findings Are False."
Ioannidis, now at Stanford, has started a program to help researchers improve the reliability of their experiments. He said the surge of interest in reproducibility was in part a reflection of the explosive growth of science around the world. The Internet is a factor, too: It's easier for researchers to see what everyone else is doing….
Errors can potentially emerge from a practice called "data dredging": When an initial hypothesis doesn't pan out, the researcher will scan the data for something that looks like a story. The researcher will see a bump in the data and think it's significant, but the next researcher to come along won't see it — because the bump was a statistical fluke….
So far about 7,000 people are using that service, and the center has received commitments for $14 million in grants, with partners that include the National Science Foundation and the National Institutes of Health, Nosek said.
Another COS initiative will help researchers register their experiments in advance, telling the world exactly what they plan to do, what questions they will ask. This would avoid the data-dredging maneuver in which researchers who are disappointed go on a deep dive for something publishable.
Nosek and other reformers talk about "publication bias." Positive results get reported, negative results ignored. Someone reading a journal article may never know about all the similar experiments that came to naught….(More)."
Full Post: The new scientific revolution: Reproducibility at last
---
Schemes used by South Australia to include citizens in policy making
Jan 29, 2015 06:33 am
Joshua Chambers at Future Gov Asia: "…South Australia has pioneered a number of innovative methods to try to include its residents in policymaking. …The highest profile participatory programme run by the state government is the Citizens' Jury initiative, …The Citizens' Jury takes a randomly selected, representative group of citizens through a process to hear arguments and evidence much like a jury in a trial, before writing an independent report which makes recommendations to government.
There were 37 members of the jury, hearing evidence on Thursday evenings and Saturdays over a five week period. They heard from motorists associations, cycling associations, and all sorts of other interested groups.
They used Basecamp software to ensure that jurors stayed connected when not at meetings, hosting discussions in a private space to consider the evidence they heard. …The jurors prepared 21 recommendations, ranging from decreasing speed in the city to a schools programme…. The Government supports the majority of the recommendations and will investigate the remaining three.
The government has also committed to provide jurors with an update every 6 months on the progress being made in this area.
Lessons and challenges
As would be expected with an innovative new scheme, it hasn't always been smooth. One lesson learned from the first initiative was that affected agencies need to be engaged in advance, and briefed throughout the process, so that they can prepare their responses and resources. ….
Aside from the Citizens' Jury, the Government of South Australia is also pioneering other approaches to include citizens in policy making. Fund My Idea is a crowdsourcing site that allows citizens to propose new projects. …(More)"
Full Post: Schemes used by South Australia to include citizens in policy making
---
How to Convince Men to Help the Poor
Jan 29, 2015 06:06 am
Tom Jacobs at Pacific Standard: "Please give. It's a plea we are confronted with constantly, as a variety of charities implore us to help them help the less fortunate.
Whether we get out our checkbook or throw the request in the recycling bin is determined, in part, by the specific way the request is framed. But a new study suggests non-profits might want to create two separate appeals: One aimed at men, and another at women.
A research team led by Stanford University sociologist Robb Willer reports empathy-based appeals tend to be effective with women. But as a rule, men—who traditionally give somewhat less to anti-poverty charities—need to be convinced that their self-interest aligns with that of the campaign.
"Framing poverty as an issue that negatively affects all Americans increased men's willingness to donate to the cause, eliminating the gender gap," the researchers write in the journal Social Science Research….
"While this reframing resonated with men, who were otherwise less likely to spontaneously express concern about poverty," Willer and his colleagues write, "it had the opposite effect for women, who might have felt less motivated to express concern about poverty when doing so seemed inconsistent with feeling empathy for the poor."…(More)"
Full Post: How to Convince Men to Help the Poor
---
Waze a danger to cops? Police reveal their own location on social media
Jan 29, 2015 06:00 am
Full Post: Waze a danger to cops? Police reveal their own location on social media
---
The Architecture of Privacy
Jan 28, 2015 05:56 pm
Book by  Courtney Bowman, Ari Gesher, John K Grant, and Daniel Slate: "Technology's influence on privacy has become a matter of everyday concern for millions of people, from software architects designing new products to political leaders and consumer groups. This book explores the issue from the perspective of technology itself: how privacy-protective features can become a core part of product functionality, rather than added on late in the development process.
The Architecture of Privacy will not only help empower software engineers, but also show policymakers, academics, and advocates that, through an arsenal of technical tools, engineers can form the building blocks of nuanced policies that maximize privacy protection and utility—a menu of what to demand in new technology.
Topics include:
How technology and privacy policy interact and influence one another
Privacy concerns about government and corporate data collection practices
Approaches to federated systems as a component of privacy-protecting architecture
Alternative approaches to compartmentalized access to data
Methods to limit the amount of data revealed in searches, sidestepping all-or-nothing choices
Techniques for data purging and responsible data retention
Keeping and analyzing audit logs as part of a program of comprehensive system oversight
… (More)"
Full Post: The Architecture of Privacy
---
The Cathedral of Computation
Jan 28, 2015 09:33 am
Ian Bogost at the Atlantic: "We're not living in an algorithmic culture so much as a computational theocracy.  Algorithms are everywhere, supposedly. We are living in an "algorithmic culture," to use the author and communication scholar Ted Striphas's name for it. Google's search algorithms determine how we access information. Facebook's News Feed algorithms determine how we socialize. Netflix's and Amazon's collaborative filtering algorithms choose products and media for us. You hear it everywhere. "Google announced a change to its algorithm," a journalist reports. "We live in a world run by algorithms," a TED talk exhorts. "Algorithms rule the world," a news report threatens. Another upgrades rule to dominion: "The 10 Algorithms that Dominate Our World."…
It's part of a larger trend. The scientific revolution was meant to challenge tradition and faith, particularly a faith in religious superstition. But today, Enlightenment ideas like reason and science are beginning to flip into their opposites. Science and technology have become so pervasive and distorted, they have turned into a new type of theology.
The worship of the algorithm is hardly the only example of the theological reversal of the Enlightenment—for another sign, just look at the surfeit of nonfiction books promising insights into "The Science of…" anything, from laughter to marijuana. But algorithms hold a special station in the new technological temple because computers have become our favorite idols….
Once you adopt skepticism toward the algorithmic- and the data-divine, you can no longer construe any computational system as merely algorithmic. Think about Google Maps, for example. It's not just mapping software running via computer—it also involves geographical information systems, geolocation satellites and transponders, human-driven automobiles, roof-mounted panoramic optical recording systems, international recording and privacy law, physical- and data-network routing systems, and web/mobile presentational apparatuses. That's not algorithmic culture—it's just, well, culture….(More)."
Full Post: The Cathedral of Computation
---
Would You Share Private Data for the Good of City Planning?
Jan 28, 2015 09:21 am
Henry Grabar at NextCity: "The proliferation of granular data on automobile movement, drawn from smartphones, cab companies, sensors and cameras, is sharpening our sense of how cars travel through cities. Panglossian seers believe the end of traffic jams is nigh.
This information will change cities beyond their roads. Real-time traffic data may lead to reworked intersections and new turning lanes, but understanding cars is in some ways a stand-in for understanding people. There's traffic as traffic and traffic as proxy, notes Brett Goldstein, an urban science fellow at the University of Chicago who served as that city's first data officer from 2011 to 2013. "We'd be really naive, in thinking about how we make cities better," he says, "to only consider traffic for what it is."
Even a small subset of a city's car data goes a long way. Consider the raft of discrete findings that have emerged from the records of New York City taxis.
Researchers at the Massachusetts Institute of Technology, led by Paolo Santi, showed that cab-sharing could reduce taxi mileage by 40 percent. Their counterparts at NYU, led by Claudio Silva, mapped activity around hubs like train stations and airports and during hurricanes.
"You start to build actual models of how people move, and where they move," observes Silva, the head of disciplines at NYU's Center for Science and Urban Progress (CUSP). "The uses of this data for non-traffic engineering are really substantial."…
Many of these ideas are hypothetical, for the moment, because so-called "granular" data is so hard to come by. That's one reason the release of New York's taxi cab data spurred so many studies — it's an oasis of information in a desert of undisclosed records. Corporate entreaties, like Uber's pending data offering to Boston, don't always meet researchers' standards. "It's going to be a lot of superficial data, and it's not clear how usable it'll be at this point," explains Sarah Kaufman, the digital manager at NYU's Rudin Center for Transportation….
Yet Americans seem much more alarmed by the collection of location data than other privacy breaches.
How can data utopians convince the hoi polloi to share their comings and goings? One thought: Make them secure. Mike Flowers, the founder of New York City's Office of Data Analytics and a fellow at NYU's CUSP, told me it might be time to consider establishing a quasi-governmental body that people would trust to make their personal data anonymous before they are channeled into government projects. (New York City's Taxi and Limousine Commission did not do a very good job at this, which led to Gawker publishing a dozen celebrity cab rides.)
Another idea is to frame open data as a beneficial trade-off. "When people provide information, they want to realize the benefit of the information," Goldstein says.
Users tell the routing company Waze where they are and get a smoother commute in return. Progressive Insurance offers drivers a "Snapshot" tracker. If it likes the way you drive, the company will lower your rates. It's not hard to imagine that, in the long run, drivers will be penalized for refusing such a device…. (More)."
Full Post: Would You Share Private Data for the Good of City Planning?
---
Opening travel spending through civic intelligence, participation and co-creation
Jan 28, 2015 09:11 am
Full Post: Opening travel spending through civic intelligence, participation and co-creation
---
The Modern Beauty of 19th-Century Data Visualizations
Jan 28, 2015 09:09 am
Laura Bliss at CityLab: "The Library of Congress' online presence is a temple of American history, an unmatched, searchable collection of digitized photographs, maps, recordings, sheet music, and documents in the millions, dating back to the 15th century.
Sifting through these treasures isn't so easy, though. When you do manage the clunky search interface and stumble across a gorgeous 1870s statistical atlas, it's hard to zoom in closely on its pages and properly marvel at the antique gem.
Problem solved, thanks to the info-nerds at Vintage Visualizations, a project of the Brooklyn Brainery. They've reproduced a number of the LOC's Civil War-era data visualizations in high-quality poster prints, and they are mouthwateringly cool. For example, I really wish we still ranked city populations like this chart does, which traces a century of census data in colorful Jenga towers (NYC, forever the biggest apple!):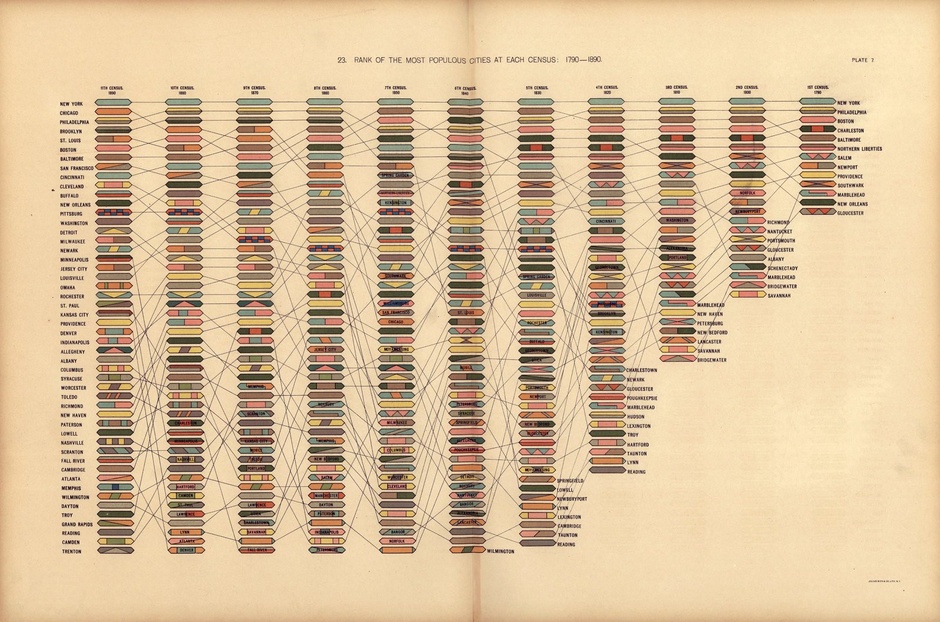 Behold, the ratio of "church accommodation" by state, circa 1870, displayed like wallpaper swatches….(More):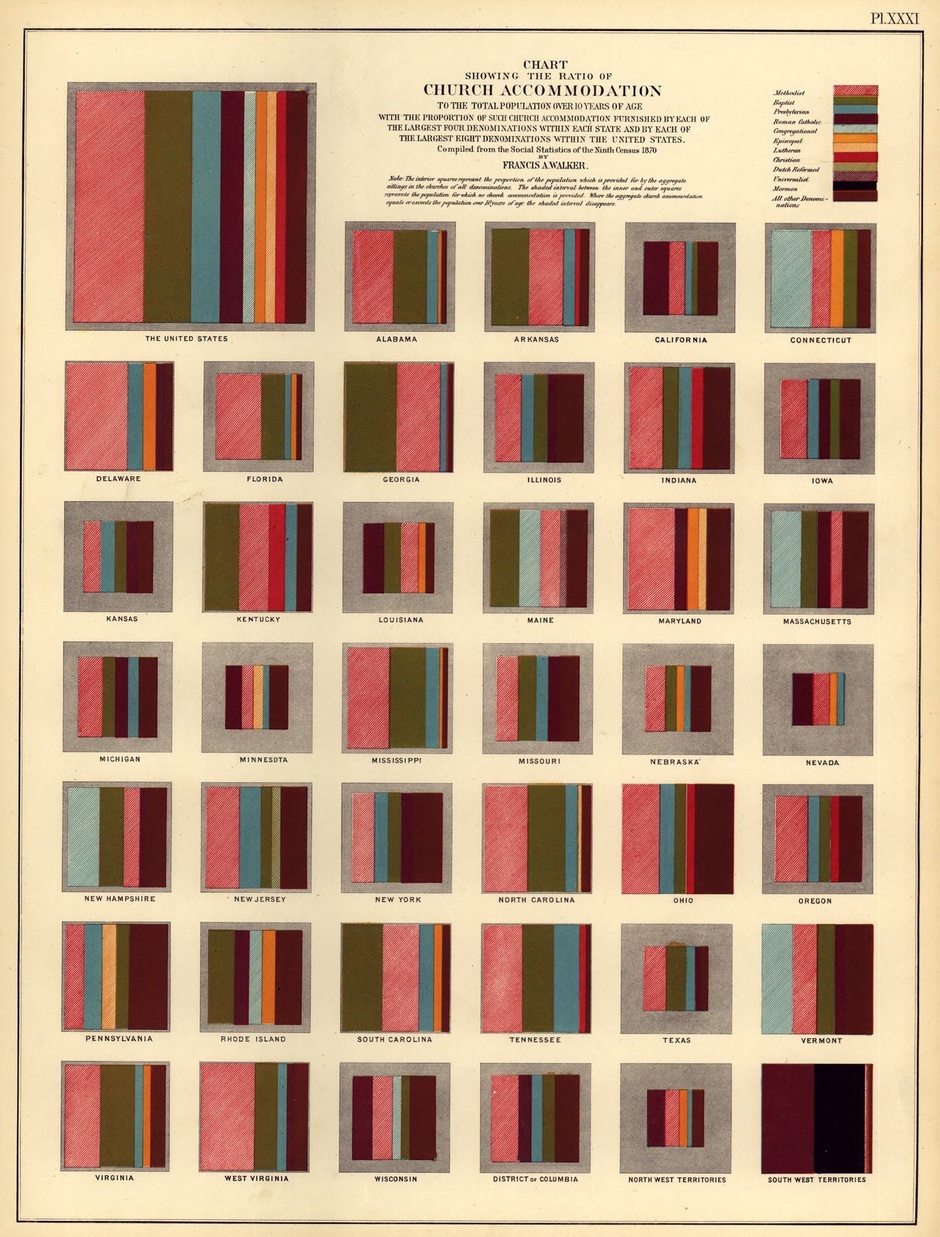 Full Post: The Modern Beauty of 19th-Century Data Visualizations
---
Study: Complaining on Twitter correlates with heart disease risks
Jan 28, 2015 09:04 am
Sam Machkovech at ArsTechnica: "Tweets prove better regional heart disease predictor than many classic factors. This week, a study was released by researchers at the University of Pennsylvania that found a surprising correlation when studying two kinds of maps: those that mapped the county-level frequency of cardiac disease, and those that mapped the emotional state of an area's Twitter posts.
In all, researchers sifted through over 826 million tweets, made available by Twitter's research-friendly "garden hose" server access, then narrowed those down to roughly 146 million tweets that had been posted with geolocation data from over 1,300 counties (each county needed to have at least 50,000 tweets to sift through to qualify). The team then measured an individual county's expected "health" level based on frequency of certain phrases, using dictionaries that had been put through scrutiny over their application to emotional states. Negative statements about health, jobs, and attractiveness—along with a bump in curse words—would put a county in the "risk" camp, while words like "opportunities," "overcome," and "weekend" added more points to a county's "protective" rating.
Not only did this measure correlate strongly with age-adjusted heart disease rate data, it turned out to be a more efficient predictor of higher or lower disease likelihood than "ten classical predictors" combined, including education, obesity, and smoking. Twitter beat that data by a rate of 42 percent to 36 percent….Psychological Science, 2014. DOI: 10.1177/0956797614557867  (About DOIs)….(More)"
Full Post: Study: Complaining on Twitter correlates with heart disease risks
---
At Universities, a Push for Data-Driven Career Services
Jan 28, 2015 08:31 am
Natasha Singer at The New York Times: "Officials at the University of California, San Diego, had sparse information on the career success of their graduates until they set up a branded page for the university on LinkedIn a couple of years ago.
"Back then, we had records on 125,000 alumni, but we had good employment information on less than 10,000 of them," recalled Armin Afsahi, who oversees alumni relations as the university's associate vice chancellor for advancement. "Aside from Qualcomm, which is in our back yard, we didn't know who employed our alumni."
Within three months of setting up the university page, LinkedIn connections surfaced information on 92,000 alumni, Mr. Afsahi said.
….
"The old models of alumni relations don't work," Mr. Afsahi said. "We have to be a data-driven, intelligence-oriented organization to create the engagement and value" that students and alumni expect.
In an article on Sunday, I profiled two analytics start-ups, EverTrue and Graduway, which aim to help colleges and universities identify their best prospective donors or student mentors by scanning their graduates' social networking activities. Each start-up taps into LinkedIn profiles of alumni — albeit in different ways — to help institutions of higher education stay up-to-date with their graduates' contact information and careers.
Since 2013, however, LinkedIn has offered its own proprietary service, called University Pages, where schools can create hubs for alumni outreach and networking. About 25,000 institutions of higher learning around the world now have official university pages on the site…(More)."
Full Post: At Universities, a Push for Data-Driven Career Services
---
Citizen Science in America's DNA
Jan 27, 2015 07:21 pm
Keynote by NOAA Chief Scientist, Dr. Richard Spinrad at the forum  entitled, Tracking a Changing Climate: "Citizen science is part of America's DNA.  For centuries, citizens not trained in science have helped shaped our understanding of Earth.
Thomas Jefferson turned Lewis and Clark into citizen scientists when he asked them to explore the landscape, wildlife and weather during their journeys of the West.They investigated plants, animals and geography, and came back with maps, sketches and journals.  These new data were some of the first pieces of environmental intelligence defining our young nation.  President Jefferson instilled citizen science in my own agency's DNA by creating the Survey of the Coast, a NOAA legacy agency focused on charting  and protecting the entire coast of our Nation.
The National Weather Service's Cooperative Observer Program, begun in 1890, is an outstanding example of citizen science.  Last year, NOAA honored an observer who has provided weather observations every day for 80 years. Volunteer citizen scientists have transcribed more than 68,000 pages of Arctic ship logs, adding to the long-term climate record by populating a database with historic weather and sea ice observations. Also, citizen scientists are providing new estimates of cyclone intensity by interpreting satellite images.
There is tremendous value in the capability of citizen scientists to feed local data into their own communities' forecasts. In September 2013, for example, formal observation systems and tracking instruments were washed out when extreme floods struck Colorado and New Mexico. By ensuring that real-time forecasts were still integrated into the National Weather Service Flood Warning System, the reports of about 200 citizen scientists contributed to what has been called the best mapped extreme rain event in Colorado history and possibly nationwide.
The Community Collaborative Rain, Hail and Snow (CoCoRaHS) Network played a pivotal role in this mapping. CoCoRaHS also shows how citizen science can help make data collection straightforward and inexpensive. To measure the impact and size of hail, for example, it uses a Styrofoam sheet covered with tin foil, creating a "hail pad" that has proven to be quite accurate.
The recognized value of citizen science is growing rapidly.  NOAA has an app to crowdsource real-time precipitation data. If you feel a raindrop, or spot a snowflake, report it through NOAA's mPING app. Precipitation reports have already topped 600,000, and the National Weather Service uses them to fine-tune forecasts…(More)."
Full Post: Citizen Science in America's DNA
---
Big Data Now
Jan 27, 2015 07:18 pm
Timothy McGovern at Radar – O'Reilly: "In the four years we've been producing Big Data Now, our wrap-up of important developments in the big data field, we've seen tools and applications mature, multiply, and coalesce into new categories. This year's free wrap-up of Radar coverage is organized around seven themes:
Download our free snapshot of big data in 2014, and follow the story this year on Radar."
Full Post: Big Data Now
---
Charitable techies can now donate their skills to nonprofits in need
Jan 27, 2015 05:24 pm
Springwise: "Technology is a mixed blessing for many of nonprofits. While apps such as SnapDonate and Charitweet make it easier than ever for people to make donations, tech development and upkeep can cost NGOs a lot of money which is desperately needed elsewhere.
With this in mind, a new platform called #charity is encouraging IT professionals to donate their time and specialist tech skills to nonprofits in need, helping those organizations to reduce costs and put the money back into their missions.
Charities of all sizes can list their IT needs, one project at a time, on #charity for free. Volunteers can sign up to the network and #charity will smartmatch them with the project that best suits their skills and interests — using an algorithm which scan's participants LinkedIn profiles. #charity assign project managers to ensure the right people are in place and they also backup all the volunteers' work on their platform in case they are not able to complete the task. Support is provided throughout for both parties — ensuring everyone's experience is as smooth and efficient as possible.
#charity is set to launch in March. It currently has 350 participants on board and is accepting registration for early access. There are pilot programs underway involving Action Against Hunger, Moneythink and Syria Deeply….(More)."
Full Post: Charitable techies can now donate their skills to nonprofits in need
---
Competition-Based Innovation: The Case of the X Prize Foundation
Jan 27, 2015 07:36 am
Paper by Hossain, Mokter and Kauranen, Ilkka, in the Journal of Organization Design,/SSRN: "The use of competition-based processes for the development of innovations is increasing. In parallel with the increasing use of competition-based innovation in business firms, this model of innovation is successfully being used by non-profit organizations for advancing the development of science and technology. One such non-profit organization is the X Prize Foundation, which designs and manages innovation competitions to encourage scientific and technological development. The objective of this article is to analyze the X Prize Foundation and three of the competitions it has organized in order to identify the challenges of competition-based innovation and how to overcome them….(More)".
Full Post: Competition-Based Innovation: The Case of the X Prize Foundation
---
Survive and Thrive: How Big Data Is Transforming Health Care
Jan 27, 2015 07:30 am
Jackie Roche at Pacific Standard: "When you step on a scale, take your temperature, or check your blood pressure, you're using data from your body to measure your health. Advances in fitness trackers have made health quantification more accessible to casual users. But for researchers, health care providers, and people with chronic conditions, advances in tracking technology, data analysis, and automation offer significant improvements in medical treatment and quality of life.
This three-part series explores health quantification through the eyes of Rutgers University Ph.D student Maria Qadri, who has both professional and personal experience in the matter. Qadri's research aims to help people with traumatic brain injury and Parkinson's Disease better manage their illness, and, as a Type 1 diabetic, glucose monitoring is a major part of her own life. Below, we take a look at how number crunching and personal data factors into Qadri's research and life….(More)."
Full Post: Survive and Thrive: How Big Data Is Transforming Health Care
---
'Open Up' Digital Democracy Commission's Report published
Jan 26, 2015 08:44 am
Full Post: 'Open Up' Digital Democracy Commission's Report published
---
Open Data Is Finally Making A Dent In Cities
Jan 23, 2015 05:43 pm
Brooks Rainwater at Co-Exist: "As with a range of leading issues, cities are at the vanguard of this shifting environment. Through increased measurement, analysis, and engagement, open data will further solidify the centrality of cities.
In the Chicago, the voice of the mayor counts for a lot. And Mayor Emmanuel has been at the forefront in supporting and encouraging open data in the city, resulting in a strong open government community. The city has more than 600 datasets online, and has seen millions of page views on its data portal. The public benefits have accrued widely with civic initiatives like Chicagolobbyists.org, as well as with a myriad of other open data led endeavors.
Transparency is one of the great promises of open data. Petitioning the government is a fundamental tenet of democracy and many government relations' professionals perform this task brilliantly. At the same time that transparency is good for the city, it's good for citizens and democracy. Through the advent of Chicagolobbyists.org, anyone can now see how many lobbyists are in the city, how much they are spending, who they are talking to, and when it is happening.
Throughout the country, we are seeing data driven sites and apps like this that engage citizens, enhance services, and provide a rich understanding of government operations In Austin, a grassroots movement has formed with advocacy organization Open Austin. Through hackathons and other opportunities, citizens are getting involved, services are improving, and businesses are being built.
Data can even find your dog, reducing the number of stray animals being sheltered, with StrayMapper.com. The site has a simple map-based web portal where you can type in whether you are missing a dog or cat, when you lost them, and where. That information is then plugged into the data being collected by the city on stray animals. This project, developed by a Code for America brigade team, helps the city improve its rate of returning pets to owners.
It's not only animals that get lost or at least can't find the best way home. I've found myself in that situation too. Thanks to Ridescout, incubated in Washington, D.C., at 1776, I have been able to easily find the best way home. Through the use of open data available from both cities and the Department of Transportation, Ridescout created an app that is an intuitive mobility tool. By showing me all of the available options from transit to ridesharing to my own two feet, it frequently helps me get from place to place in the city. It looks like it wasn't just me that found this app to be handy; Daimler recently acquired Ridescout as the auto giant continues its own expansion into the data driven mobility space."
Full Post: Open Data Is Finally Making A Dent In Cities
---
Mapping the Nation: Building a More Resilient Future
Jan 23, 2015 12:20 pm
New book from Esri: "The fifth book in Esri's Mapping the Nation series, Mapping the Nation: Building a More Resilient Future is a collection of geographic information system (GIS) maps that illustrate how federal government agencies rely on GIS analysis to build stronger, more resilient communities and help make the world a better place.
The print version of the book includes 118 full-color maps produced by more than 50 federal government agencies, including the US Forest Service, US Department of Defense, US Department of Education, and the Bureau of Ocean Energy Management. The digital version of Mapping the Nation offers enhanced and interactive maps and videos showcasing four start-up companies that are using ArcGIS technology in partnership with Esri and the government.
The maps depict how federal employees and officials use GIS to evaluate, plan, and respond to social, economic, and environmental concerns at local, regional, national, and global levels. Topics such as green government, economic recovery and sustainability, and climate protection show how government agencies use GIS to facilitate initiatives, improve transparency, and deliver strong business models…
Mapping and Apping the Nation 2015, an interactive digital adaptation of the printed map book, is available free of charge from the Esri Books app on Apple iTunes and the Google Play store."
Full Post: Mapping the Nation: Building a More Resilient Future
---