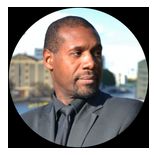 Henry Bastien-D'Elie - Opera Singer

This Storytelling Evening features Henry Bastien-D'Elie, a versatile, accomplished, and talented singer. With a passion for Opera, his repertoire includes famous arias in French, German, English, Italian, Spanish, Hungarian, and Portuguese. Multi-faceted he is well-versed and has performed in a rainbow of genres including Gospel, Jazz, Spiritual, Musicals, World, Rock, Reggae, R & B, Latin, Country and Blues. Henry will perform operatic selections, and from other genres to showcase his versatility, preceded by an amusing show of his warm up routine. He will also sing a tribute to my dear friend, the late and great Manda Djinn where he will interactively sing with her recording of the "Child of God".
Originally from Guadeloupe, moving to France at the age of two, Henry was born into a family where singing was as natural as breathing. His mother sang in the church choir and his father played the guitar and, although not musically trained themselves, their desire was for the young Henry to start lessons at an early age. This started with violin and piano lessons at the age of six and at ten enrolled in guitar classes at the Music Conservatory in the 11th arrondissement. Adding to his instrumental training, Henry discovered choral singing at the parish school Lycée Voltaire, igniting a passion for singing on stage with a group and as soloist. This would be the "red thread" or constant throughout his life. Henry credits many wonderful teachers and directors, especially with Mr Bugnon, his first music teacher, who inspired him along the way. Henry has performed with eight choral groups in France and Germany (church groups, UNESCO and Le Choeur des Hommes de Paris) where he is often chosen to perform solo.
Following lycee (high school) and a two-year stint studying medicine, military service took him to Germany to the town of Saint Wandel (near Saarbrücken). Joining a choir during this one year period was a life changing experience and returning to Paris, Henry decided to pursue a singing career enrolling at the Sorbonne in musicology with a first solo professional experience at the Archdiocese of Paris. Sidetracked for family reasons, as painful as they are unexpected, Henry regrettably put on the back burner a singing career for a more practical vocation in the security industry where from 2005 – 2013, he held managerial roles at ESA (European Space Agency) and CNES (Centre National d'Etudes Spatiales – French Government Space Agency). During this period, his passion for singing was kept alive performing with choral groups and 3-4 concerts a year.
As they say in French a "concours de circonstances" (translated -chance alignment of circumstances), a layoff in 2013 gave him the opportunity to fulfill his dream to pursue an artistic career. The result of his full-time pursuit includes performances in various genres but primarily opera roles such as Theos Oïdos (The Three Lights), the Dutchman (Le Vaisseau Fantôme) Wagner, Pandolphus (The Servant Mistress) Pergolese, Don Magnifico (Cinderella) Rossini, Pantheus (The Trojans) Berlioz, and as Soloist for the Solemn Mass of Rossini. To complement his singing talent, Henry studies theater and acting with TV (TF1) series roles in Profiler, Munch, and Lebovitsz against Lebovitsz).
The menu will feature a Guadalupe Creole cuisine of Chicken Colombo, Mango Orange shooter, Cauliflower Hummous, other items and ending with a Pineapple, Coconut, Date dessert. Choice of red or white wine, beer, cremant, tea and coffee.The location is chez moi, codes sent when you RSVP. LIVESTREAM available HERE at 20:45 Paris time.

Yours in opera,
Bernadette
P.S. Interested in sponsoring a Storytelling Evening? If so, I would be delighted to discuss the social media and livestream coverage.
SITE www.storytellingevenings.com
•
Direct to RSVP HERE
•
LIVESTREAM LINK HERE
___________________________________________________________________________
A Storied Thanksgiving weekend at the Chateau de Percey
Traditional Turkey Dinner, Castle and Grounds Tour (complete with Labyrinth),
Treasure Hunt, Talent Show & Stories
November 24-26 Details HERE
Listen to Radio Interview with Bernadette "Happy Hour with
Ollia" on the Storytelling Evenings.
Click
HERE
Give the "gift of story" to a friend

S
torytelling Evening
certificates available
Request HERE
www.storytellingevenings.com
FAQ - FREQUENTLY ASKED QUESTIONS
WHAT ARE THESE
S
torytelling Evening
s?
Gatherings usually in Paris at the residence of Host Bernadette Martin, where storytelling enthusiasts mingle, dine then listen to a storyteller (author, entertainer, artist, musician, magician, opera singer, dancer, actor,
expert in a particular field) who tells their story and often performs. The idea is to ENTERTAIN, AMUSE, EDUCATE, ENLIGHTEN or any combination thereof.

WHO IS THE HOST?
The Host is Bernadette Martin who delights in, once a month, welcoming guests "chez elle" for an evening of storytelling and dining, where she also designs and prepares the menu. During her "day job" as Founder of Visibility Branding, she is a Career Coach, Personal Brand Strategist, Online Identity Analyst, Speaker, and Author of
Storytelling about Your Brand Online & Offline
Amazon link
WHO ATTENDS?
These
S
torytelling Evenings
attract Storytelling afficianados who hail from across the globe, both physically at the event gathering 25-30, and virutally 100's have joined via LIVESTREAM. Presentations are in English with simultaneous translation in French as needed.

HOW DOES LIVESTREAM WORK?
LIVESTREAM is a video platform that allows you to view the event as a spectator over the internet. At the designated time (usually one hour after the start of the physical event), click on this LINK and you will see the event
. There is no charge.

WHAT IS THE DINNER MENU?
The menu is an important part of the evening and is always different, corresponding with the theme and/or the storytellers' origins or preference. Bernadette Is not only the Host but delights in designing and prepariing the menu (with advice from her network of chefs), that includes soup, appetizers, main course, salad, dessert, red or white wine, cremant, beer, juice, coffee, and tea. (Vegetarian options upon request)

WHAT
IS
THE COST AND LOCATION?
For the physical event the cost is 30 Euros which includes presentation, and complete dinner with alcoholic and non- alcoholic beverages.
Paris events are at the residence of Host Bernadette Martin located
near Bastille (11th), across from metro with building elevator. Codes given with RSVP and payment. LIVESTREAM is FREE.
S
torytelling Evenings International
can be at any location in the world.

HOW DO I REGISTER?
www.visibilitybranding2015.eventbrite.com

HOW OFTEN ARE THESE STORYTELLING EVENINGS?
Once a month usually on a

Saturday

.

WHERE CAN I FIND MORE INFORMATION?
SITE: to view photos, past events and more go to www.storytellingevenings.com OR go direct to RSVP link
www.visibilitybranding2015.eventbrite.com
iS IT POSSIBLE TO SPONSOR A STORYTELLING EVENING?
Yes, if you are interested in sponsoring a Storytelling Evening and/or holding an event either in Paris or any location, contact me to discuss. T: 33 (0) 6 33 41 7001 E: bmartin@visibilitybranding.com