CENTER FOR SCOUTING TEMPORARY OFFICE CLOSURE
Due to rising COVID-19 cases

i

n our area, the Bay-Lakes Council Center for Scouting and Appleton Scout Shop is taking a preventive measure and will be temporarily closed starting Thurs., November 5, through Wed., No

vember 18, 2020.

Staff members will be working remotely during this time. If you need assistance, call the Center for Scouting at (920) 734-5705 or visit our

Staff Directory

page to reach out directly.
In-Person

Scouting

Events and COVID-19
The pandemic situation within Bay-Lakes Council continues to develop and change. Most of the counties within the council are seeing high COVID-19 activity levels.

We ask that all Scout unit volunteers review their county's guidelines before holding in-person meetings and/or events. Many counties are asking that gatherings to be limited to 10 or fewer individuals, physical distance should be maintained, and face coverings be worn. Units are encouraged to hold virtual meetings at this time.
Between now and the end of the year, all district roundtables will be virtual. In addition, the council will not be adding any district, council, or Order of the Arrow in-person events to the calendar.

For additional COVID related resources follow this

link
.
ADDITIONAL SCOUTING @ HOME VIRTUAL MERIT BADGE CLASSES TO OPEN!
Scoutmaster Mark Fessenden will be once again offering Virtual Merit Badge Classes. The following Merit Badges are scheduled for the following dates:
Citizenship in the Nation: Nov. 17 & Dec. 1

Genealogy: Dec. 12

Citizenship In the World: Dec. 15 & Dec. 29

Citizenship in the Community: Jan. 26 & Feb. 9
Next on deck will be Law, Cooking, and Scouting Heritage.
Each Merit Badge Class will accept 15 or less Scouts, with the remaining put on a waiting list to receive preference for the next opportunity. Merit Badge Classes will be limited to 15 or less Scouts to guarantee a quality experience. Additional Merit Badge Counselors are being recruited to offer additional sessions. The cost for Bay-Lakes Council Scouts is $15 per class, and is non-refundable.
Registration for the above merit badge classes will open at 12:00 Noon Central/1:00 PM Eastern, on Friday, November 6. To access the registration links visit our
Scouting @ Home resource page
.
CUB SCOUT ADVENTURE VIDEOS NOW AVAILABLE TO PACKS AND FAMILIES
| | |
| --- | --- |
| Be sure to check out the Lion Adventure of Gizmos & Gadgets, and the Webelos Adventures of Into the Woods, and Aquanaut...they were made right here in the Bay-Lakes Council. | |
SAMPLE PACK CALENDARS FOR ANY SITUATION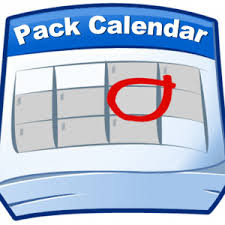 The 2020/2021 Scouting Season is going to demand of us some flexibility (Sempre Gumby!), and some tenacity. Lucky for us, we all know that in Cub Scouts we believe in "Do Your Best"!
in that spirit, we reached out to some of our best Cub Scout Leaders, and we invite you to take a look at a Help piece, and a couple of sample calendars. One is for a full service Pack with a viable meeting location and lots of participating families, while another is for a small Pack with meeting location challenges.
We invite you to take a look, and mix and match as you adjust your Pack calendar to adapt to this year's opportunities. Thank you Joe Heimerl and Sarah Halverson for putting this together. You can also find all of these resources, and much more on our
Scouting @ Home resource page
.
NEVER HAS IT BEEN SO EASY TO BE A DEN LEADER!
Scoutbook
is the BSA's online unit management tool and helps Scouts, parents and leaders track advancement and milestone achievements along the Scouting trail. The Den Leader Experience is a web app that makes it easier than ever for den leaders to prepare for and lead meetings, track advancement and attendance, and more
Imagine planning your Den Meetings for the year in just minutes -- or planning for your meetings, and communicating with your Den and Pack with an easy to use app on your phone! Imagine logging into the Den Leader Experience Sandbox to check everything out before you set up your Den in a brand new App that makes managing your Den a joy.

C
heck it all out

HERE. It's all ready for you to explore and use now.
MIESFELD'S COOKING CORNER WITH MR. K
Mr. K has released

his

latest recipe -- the hearty and delicious

BRATWURST HASH

!

Check out all of the delicious Brat flavors available at

Miesfeld's

. Once you have picked your favorite flavor,

download the

recipe

and watch his video demonstration for cooking instructions.

Scoutmaster K shows you how good it looks.