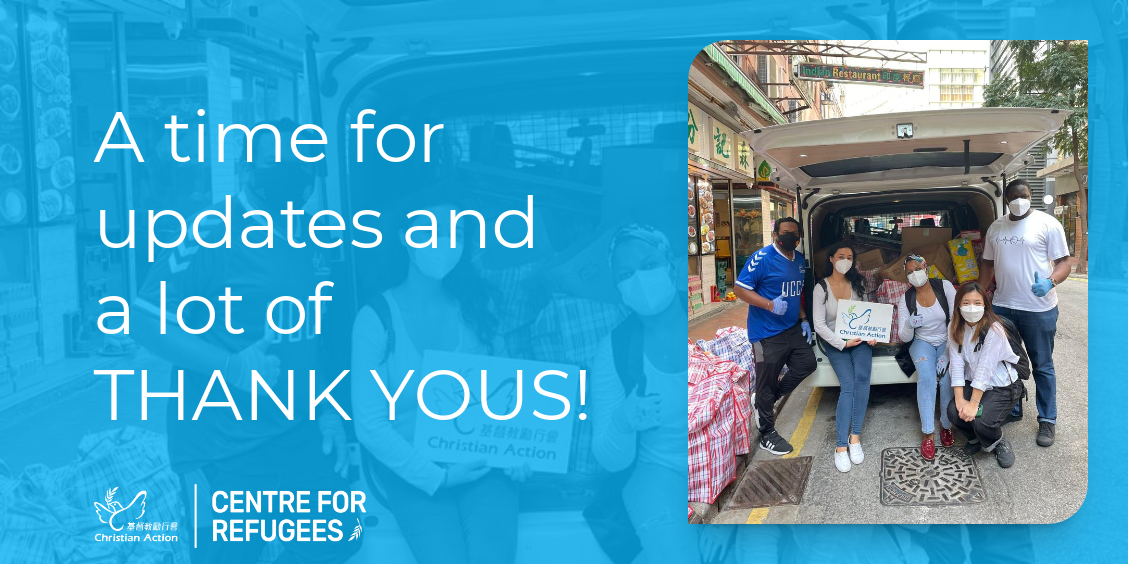 Despite the challenges that have come with the COVID-19 5th wave, thanks to all of you and the rest of the HK community's incredible and prompt support, we have been able to push through and support the refugee community immensely!! We would love to share where all your efforts have helped us.
Covid Relief Distributions

Thanks to your generous donations we have gone out and delivered not only once, but twice to over 200 families spread out over 15 districts all over HK!
Each of these large striped bags have been filled with the needs of our refugee clients that we have found out directly from them through our community Zoom meetings. These include fresh vegetables, test kits, medicine, detergent, oil, rice, soap, shampoo, milk, canned food, toilet rolls and much much more.
This would not be possible without the emergency donations received from the HK public, and a special thank you to Swire's Trust Tomorrow initiative, Kadoorie Charitable Foundation, Zeshan-SEEDS-TEF, Zoastrian community, and Christian Church community.
Summer holidays were moved up abruptly this year, and summer camp which was a chance for the kids to express their creativity was taken away. Due to the swift replies and donations to our appeal at the end of last month, we were able to hold an Online Spring Camp! A huge thank you especially to Save The Children Hong Kong and Swire's Trust Tomorrow initiative as without them this program would not have been able to get off the ground in the very limited time we had to organise and run it.
This 3 week program, lead by our own refugee student leaders, allowed them to grow their leadership and organisational skills, while helping the other refugee children of the community learn new skills and build on existing ones as well. This program provided a range of activities such as coding, boxing, film classes, arts & crafts, dance, yoga, story telling, singalong, exercise classes to over 60 kids! Thank you for allowing us to help them spend their holidays in a fun way while maintaining a sense of community in the limited opportunities they have.
A special thank you to our other program partners, BSD Education, Babel Film Workshop, and Chinese International School.
Vaccine Drive

Very thankful to HKU for organising a walk-in vaccine drive for our refugee clients. Giving them an alternative option to having to wait for an appointment through ISS. We have now been able to bring 2 groups, and many more scheduled in the upcoming month.

Hot Meal Distribution

We are currently providing an ongoing hot meal distribution to 30+ clients per day, everyday! All thanks to Father John Wotherspoon, Lucia, and Mercy HK, our clients get to bring home a rice meal box with a generous portion of toppings of choice from a local restaurant in Jordan.
Education Support

We value the importance of education and are truly thankful to all of the support we have received to aid in the education of the children. As we know, online classes are not easy, from wifi problems, to inadequate devices, or insufficient materials, we would like to especially thank these education program partners who helped relieve these issues from our students and allow them a proper and more supportive learning environment from home.
Project Spark for learning materials, covid relief items, and tutorials.

Wedo Global, HOHK, SCHK for learning materials, laptop and tablet devices.

Eric Lai for laptop and tablet devices.

Yang Chin Hin for DSE tutorials.
Donation of Women's Group Materials
Our Women's group was forced to experience a lull in classes as regulations forced face-to-face classes to be suspended. However, when we received a call from a donor, they finally had a chance to practice their handcraft skills again. Mr. Ajit K. G. was kind enough to reach out to us and donate 3 full pallets of accessory items and cloths of varying, vibrant patterns. This helped the ladies of our Women's group to practice their hand stitching skills from home, as they eagerly went on to create these beautiful pillow cases, just one of many projects of our AnEW program.
1. Use your consumption vouchers!
Buy supermarket gift vouchers using your consumption vouchers for distribution to refugees and asylum seekers.

Mail or drop off the vouchers to our centre. We are located at Rm. 6, 16/F, Block E, Chungking Mansions, 36-44 Nathan Road, Kowloon, Tsim Sha Tsui
2. Donate to our Education Fund!
Help us to continue to provide programs and support to our students. Scan the QR code or donate via this link:

https://www.christian-action.org.hk/donationbox/donation.php?page=Refugee

And please select "Education Sponsorship Program"
Wishing you all a great long weekend and happy holiday!
Copyright (C) 2022 Christian Action -- Centre for Refugees. All rights reserved.


Our mailing address is:


Want to change how you receive these emails?
You can update your preferences or unsubscribe