Annual End-of-Year
St. Nicholas Appeal

There's still time to make an end-of-year contribution to our annual St. Nicholas Appeal. Help us reach our goals to support innovative and growing educational programs year round at the Wyckoff Farmhouse.

Farmhouse Family Day
Saturday, December 19
11 a.m. to 3 p.m.
Free

Christmas Weekend
Closed Friday Dec. 25
Open Saturday Dec 26
Tours: 1 p.m. & 3 p.m.
$5 general/ $3 children

New Years Weekend
Closed Friday Jan 1
Open Saturday Jan 2
Tours: 1 p.m. & 3 p.m.
$5 general/ $3 children

Farmhouse Family Day
Saturday January 16
11 a.m - 3 p.m.


Free



Family Days are scheduled the third Saturday of the month. Check website for any schedule changes.
A Message from the Director
Dear Cousins & Friends,
As we head into winter and look forward to a new year, the holiday season is a time to count our blessings. Sometimes it is the small blessings that fill us with the most gratitude. For those of us here at the Wyckoff House, we count a warm home
among our greatest blessings this season. After two winters without working heat, we welcome the warmth of the newly installed HVAC system (even in this unseasonably mild northeast December). Our recent trials with modern heating underscore the many blessings we take for granted: heat, indoor plumbing, or reliable access to food all year round. For our ancestors, including the Wyckoffs who lived in this very house, these standards of modern life were hard worked for and never taken for granted. And what a blessing it is to impart this appreciation on thousands of school c
hildren who visit the farmhouse each year and explore what daily life was like for Pieter, Grietje and their eleven children to simply survive on the homestead. Perhaps the greatest blessing is that this humble farmhouse still stands more than 360 years later!
It has been a year of regrowth at the farmhouse as we have expanded our programs, built a larger audience, renewed our member base, and revived our demonstration garden. We have many blessings to count this seas
on and wish to share a few highlights:
Association membership has grown for the first time in over a decade
Our annual Wyckoff reunion in New Jersey brought together more than fifty Wyckoffs. Stay tuned for next year's reunion details.
We saw our largest ever single day attendance at this year's 4th Annual Breukelen Country Fair in September.
Our heirloom gardens are thriving thanks to our new farm team
We thank you for your ongoing support that allows this humble farmhouse to continue its mission of education and community engagement. If you have not yet contributed to our annual St. Nicholas-end-of-year campaign, please do so
here
. Please share the gift of our heritage, help grow our family, and ensure a healthy future for our association by purchasing
gift memberships
for your adult children or family this holiday season. It is my wish for the new year to continue to grow our family and share these many blessing with you and our growing community.
Wishing you happy and healthy holiday
season,
Melissa Branfman
Museum Director

Reunion Recap
by Lucie Chin
Braving the wind to enjoy the fabulous picnic lunch.
Honorary Director Ira Kluger-Wyckoff leads the group in our traditional song.
Group Shot: Now that's a lot of Wyckoffs!
On Saturday, October 17, 2015 the museum staff and over fifty Wyckoff cousins, friends and families met in Somerset, New Jersey at Colonial Park for a picnic lunch and get-together presided over by Naj Wikoff and Barbara L. Wyckoff. Despite lots of sun and clear skys, the day was a bit nippy, but a delightful time was had by all. Naj spoke on behalf of the Association and lead many reunion traditions including Lucky Bucks and a line count. Ira Kluger-Wyckoff led the group in singing the traditional song "We Gather Together." Museum Director, Melissa Branfman and Garden Coordinator, Ann Marie Rubin spoke about the museum's recent activities and future projects, especially with regard to the garden and education.
After lunch we all bundled into various cars and paid a visit to the nearby
Wyckoff-Garretson House
, where we were treated to a docent tour of the beautifully restored early 18th century farmhouse and afterward an informal chat with the staff before heading home.
If you didn't have a chance to drop money in Pieter's Hat (another reunion tradition), please contribute to the continuation of our annual reunion tradition
here
.
Education Update

by Alyxandra Maglio
We hit the ground running this school year, barely a day goes by without a group coming in to tour and explore the house. Monthly open-house family days have proven a big success and offer families with younger children an interactive way to enjoy the house, gardens, and history. We are excited to see schools from all the different boroughs coming through our doors, participating in all the different school programming we have to offer.
This school year we welcomed three new museum educators: Araya, Bryan, and Danielle. Each one comes to us with a myriad of experiences ranging from teaching college level courses to working in various other historic house museums. They've fallen into the swing of things with ease and have become valuable members of our team practically over night! We know they'll continue to achieve in 2016.
This is a season for giving, we give gifts and thanks to our friends and family as symbols of appreciation and love. This year, the education department would love to give thanks for the gift of our community and our students who brighten our days and remind us exactly why history is worth preserving. We'll see everyone in 2016!
Meet Bryan
I am thrilled join the Wyckoff
House
team as a museum educator. An educator and activist, I split my time between the museum world and academia. I hold graduate degrees in both African American and African Studies with a focus in art history, anthropology, and history. I currently teach Africana history and culture at Queens College.

I previously worked at LACMA, LA County Natural History Museum, La Brea Tar Pits, and the Atlanta History Center. As a scholar-activist, I worked with student groups in Mississippi on anti-racism and social justice issues, serving as founding advisor of the first black radical political student org on U Miss' campus since the 1970s. This year I curated three exhibits, including The New Age of Slavery, as part of the Museum of Impact (a social justice museum founded by Wyckoff fellow Monica Montgomery).
Fall Festivities
4th Annual Breukelen Country Fair and New Family Days
This fall marked the 4th annual Breukelen Country Fair, celebrated by over 600 visitors. This annual celebration has grown out of the Fall Apple Fest, which included the ever-popular cider pressing. This year, Farmer Ann Marie sourced certified organic ugly apples from an Orchard in the Hudson Valley. They made perfect cider! Kids enjoyed a puppet show, toured the farmhouse, had their faces painted, and even had a chance to ride a pony. Entertainment included a steel pan performance and Afro-Brazillian dance troupe, Batingua Arts. Caretaker Dan was the grill master and cooked up over 300 organic and sustainable hot dogs, courtesy of the Meat Hook. Thanks to our staff and volunteers, the fair was truly a team effort! Check out photos from the fair here.

New Farmhouse Family Days are a once a month open house for families with children to explore the historic house, touch hands-on artifacts, and make a craft project. Educator, Cody Rae, facilitates creative craft projects and new ways of exploring and connecting with the garden and farmhouse for visitors of all ages and abilities. We will continue farmhouse days in the new year with a regular schedule on the third Saturday of each month. Learn more here.
Member's Corner
From the Archives
By Barbara L. Wyckoff, WH&A Secretary
In 1993 the Northern California Chapter of WH&A published
Wyckoff Family Favorite Recipes.
Many cousins and friends contributed recipes to the book, which included an introduction by food historian Peter G. Rose. Ms. Rose was the guest speaker at our 1992 annual reunion in Brooklyn, New York. She also oversaw a dinner buffet of traditional Dutch dishes that she had selected from two hand-written manuscript cookbooks found in our museum archives.
One, its author unknown, dates from before 1880. The other was the cherished recipe collection of Mrs. Milford B. Streeter (nee Sarah Maria Wyckoff), again dating from the late 1800s. Our dinner included black bean soup, potato balls, chicken fricassee, hot cabbage slaw, fried tomatoes, stuffed bananas, and cakes and cookies.

In the spirit of the season, here is a recipe for gingerbread cookies that Mrs. Streeter called "Addie's molasses cookies." We don't know who Addie was, but she was either a relative or good friend of Mrs. Streeter's. Peter Rose notes that the cookies are crisp when fresh from the oven, but turn soft the next day.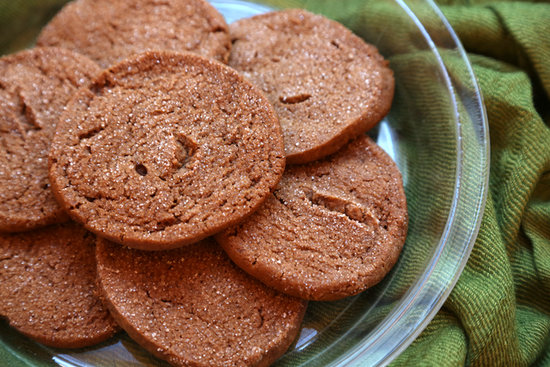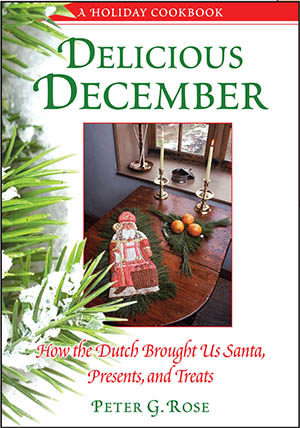 GINGERBREAD COOKIES
1 cup butter
1 cup sugar
1 cup molasses
3 eggs, lightly beaten
2 ½ tsp baking soda
¼ tsp salt
1 tsp ginger
3 cups flour
Preheat oven to 350 degrees. Beat together the butter and sugar. Add the molasses and eggs, one at a time. Beat in the baking soda, salt, and ginger, then add the flour a cup at a time. The dough should be soft but not sticky. Roll out on a well-floured board, about ¼ inch thick. Cut out with cookie cutters. Place on a buttered baking sheet and bake for 15 minutes or until firm and lightly browned. Remove and cool.
14th Annual St. Nicholas Day
This month's St. Nicholas Day celebration marked the 14th year we have celebrated here at the Wyckoff House. Families from near and far joined us as we welcomed the St. Nicholas (or Sinterklaas). As always, Sinterklaas arrived on horseback as more than one hundred of us sang the Sinterklaas song led by Linda Russel. With uncharacteristically warm weather, children made pomanders and decorated Dutch klumpen on our new picnic tables outside. For some added fun, we roasted marshmallows over the (carefully tended) open fire outside.

After Sinterklaas read the traditional Bakers Dozen and each child (old and young) signed the Big Red book, we said vaarwel (farewell) to St. Nicholas. As the sun began to set children helped decorate the tree with ornaments they made before the big tree lighting.

See local news coverage by News Channel 12 HERE.
Decorating the tree.
Sinterklaas answers questions.
Playing colonial "instruments.".
Garden Update

by Farmer Ann Marie
Garden Apprentice Program
The new garden apprenticeship program is a hands-on experience cultivating vegetables, herbs, and native plants and flowers at the Wyckoff House Museum farm. Apprentices meet at the farm once a week and shadow our gardener, learning all aspects of urban sustainability and regenerative agriculture, taking home a mini-farm share of organic food each week. Our fall apprentices, Gloria, Zoe, and Mackenzie, were integral to running the garden throughout the summer and fall, helping water, weed, prune, harvest, and plant. The garden team also managed and staffed the pop-up farmers market at our annual harvest festival.
Garden Apprentices Zoe and Mackenzie at the pop-up farmer's market.
Apprentice Gloria harvesting mints.
Meet our Garden Apprentices (GAPS)
Each of our apprentices chose a project to focus on this fall.
Thank you so much to these talented ladies!
Zoe is making medical herb tinctures and teas, including harvest, drying, and preparing to make tinctures of herbs growing on site.
Gloria is the photog behind the our garden pics on facebook and is creating the Wyckoff holistic wellness plant blog. She is also working on an aerial garden mapping with a drone camera.
Mackenzie wrote a wonderful essay about Mugwort for our blog (coming soon!) made beautiful hand painted signs for our country fair (pictured above), planted wildflowers and a bed of four types of garlic.
Fall Farm Highlights
We planted two beds of organic grains that will create a Brooklyn farm-scape, as they grow through harvest in summer 2016, after which we will store, thrash, and mill it into wheat to make bread. Digging a bed of wheat, out of hard-compacted urban soil, shoveling wheelbarrow after wheelbarrow of compost, in late-summer Brooklyn heat, is no small feat. I could not have done the wheat-scape project without GAP Zoe!

Another highlight is a new bed of the endangered native plant Goldenseal, that we planted in the rear garden. We hope to create a mini-nursery to help re-establish Goldenseal populations in the Northeast.
And what food are we growing right now? Four types of garlic (to harvest in June), winter vegetables (radish, turnips, beets, mustards, carrots, lettuce), and food for the soil: cover crops (austrian winter peas, rye and vetch, hullless oats, dutch clover).
Wyckoff Mug in Green or Plum
Wyckoff Farmhouse Puzzle
This 100 piece puzzle features color photo of Wyckoff House in spring with tulips. Puzzle measures 8.25" x 11.75" and comes in decorative tin (8" x 6"). $15
Buy Online
This stand-up wooden replica of the Wyckoff House Museum makes the perfect stocking stuffer and souvenir of New York's Oldest structure and the city's first landmark. At 7.25" across by 3.25" high your handheld Wyckoff House will fit perfectly on a desk, windowsill or mantle. $22
Buy Online
New Apparel
Screen printed Gildan Ultra Cotton T-shirt in a variety of colors. 6.1 oz 100% pre-shrunk cotton. Adult sizes S-XL, Youth sizes S-XL. $15-20
Buy Online
New! Wyckoff Totes
Natural 100% cotton canvas tote bags with printed Wyckoff
Farmhouse logo. Perfect for shopping or carrying personal items. $8
Buy Online
Wyckoff Caps
100% brushed cotton twill low profile baseball cap embroidered with line drawing of Wyckoff House. Adjustable slide buckle closure in back. Available in three attractive color options. $20
Buy Online
For more shop items, visit our online store!